'Unprecedented': Deadly parasite kills thousands of fish, prompts Yellowstone river closure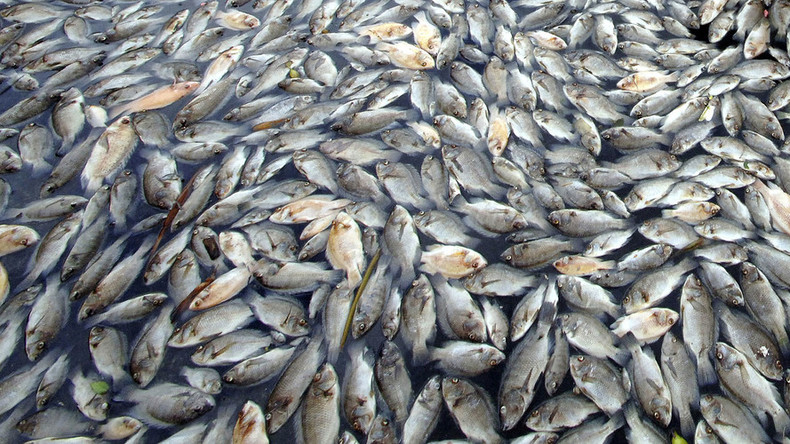 Nearly 200 miles of a popular Yellowstone river is closed to the public, as thousands of fish have gone belly up in an "unprecedented" way. Officials in Montana suspect the cause is a human-spread parasitic disease.
Fishing, rafting, swimming and other water-based recreational activities were banned for an undetermined amount of time as of Friday morning. The immediate closure is stretching from Yellowstone National Park's northern boundary at Gardiner to the Highway 212 Bridge in Laurel, the area surrounding the affected zone.
Officials from Montana Fish, Wildlife and Parks (FWP) say the 183-mile stretch of the Yellowstone River would not reopen until fish stop dying. As of Friday morning, up to 4,000 fish have been counted, but a real number is believed to be in the tens of thousands. The fish kill has extended for nearly 100 miles, the FWP said.
"This kill is unprecedented in magnitude. We haven't seen something like this in Montana," FWP spokeswoman Andrea Jones said.
FWP said in a statement that test results from samples sent to the US Fish & Wildlife Service's Fish Health Center in Bozeman, showing the catalyst for this fish kill to be proliferative kidney disease.
"It's one of the most serious diseases to impact whitefish and trout," Jones said.
Fish suck in spores of the disease through their gills, and the parasite then travels to the kidneys, eventually causing failure. It is not dangerous for humans and dogs.
It is believed that the deadly parasite is getting into rivers through boats, tubes, waders and other human contact. But effects of the disease can also be worsened by poor river conditions like high water temperatures and low flows, which are stressful for cold-water species like trout and whitefish.
"A threat to the health of Montana's fish populations is a threat to Montana's entire outdoor economy and the tens of thousands of jobs it sustains," said Gov. Steve Bullock, adding that despite loses the state should do whatever it takes to stop the disease from spreading to other rivers.
Montana's outdoor recreation economy is responsible for more than 64,000 jobs and nearly $6 billion in yearly economic activity, he stressed.
No dead fish have been found inside Yellowstone National Park, where the 100th anniversary celebration is expected to kick off next week.
Officials say no closure is planned inside the park.
"At this time, the NPS [National Park Service] is not considering expanding the river closure inside Yellowstone National Park. Crews are actively assessing the Yellowstone River and its tributaries inside the park's northern boundary and have not discovered any dead fish," the agency said in a statement.
The disease has already struck two isolated Montana locations over the past 20 years. Recent outbreaks have also occurred in Idaho, Oregon and Washington.
You can share this story on social media: