Shocking bodycam footage shows cop pull passenger from car inferno (VIDEO)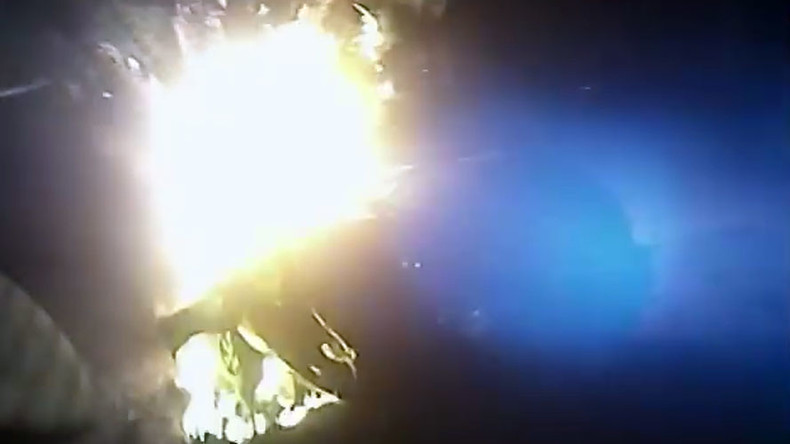 Dramatic footage has captured the terrifying aftermath of a high-speed accident as a brave Georgia cop saved a passenger trapped in an SUV engulfed by flames. The car's driver was killed in the incident.
Officer Dan Whitney was responding to a highway emergency in the early hours of the morning and arrived on the scene to find a vehicle which had left the road, crashed into a tree and erupted into flames.
In the footage captured on Whitney's bodycam, a trapped passenger is seen desperately calling for help as he tries to squeeze out the backseat window on the driver's side with the door jammed shut.
With no fire department personnel present, Whitney takes a small fire extinguisher from his patrol vehicle and tries in vain to douse the flames, while simultaneously attempting to extricate the man from the SUV.
Realizing he's in a losing battle, Whitney yells to the occupant of a nearby house: "I need a fire extinguisher or a garden hose. Get a garden hose."
He then returns to helping the trapped passenger and, after protracted pushing, pulling and dragging of the car door, he manages to yank the man through the broken window and free of the vehicle.
Another explosion can then be heard as back-up arrives with Whitney telling colleagues "Get him (the passenger) out by the road."
The Athens-Clarke Police Department, Georgia released the footage following Whitney's nomination Thursday for a 'Protect Life' Rise Award in recognition of his actions.
You can share this story on social media: