Military contractor jet crashes near Las Vegas after pilot ejects (VIDEO, PHOTOS)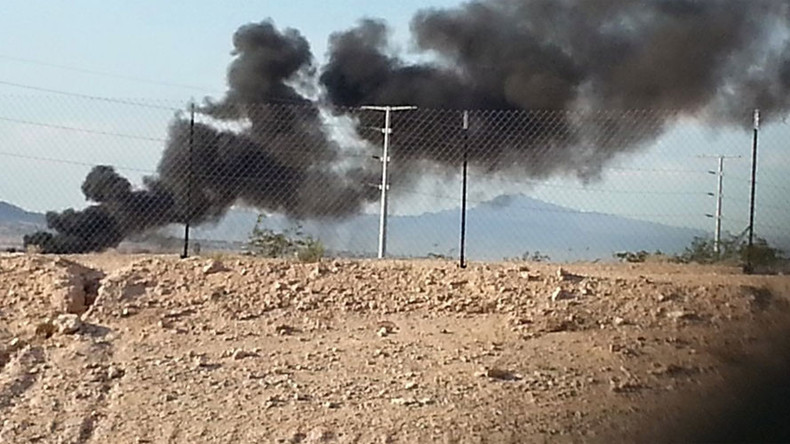 An aircraft has crashed in North Las Vegas between the Nellis Air Force base and the Las Vegas Motor Speedway, Clark County Fire Department reports.
Smoke was seen rising from the scene Thursday morning.
The wreckage came down near Sloan Lane and Ann Road.
Nellis AFB officials confirmed a civilian contractor aircraft supporting 57th Wing operations came down near the base at 7.40 a.m. local time, KVVU reports.
The pilot sustained minor injuries in the accident and an investigation is under way.
The plane was a (T)A-4K third-generation Skyhawk.
Introduced to US Navy service before the Vietnam era in 1956, the A-4 was retired in 2003.
Florida-based Draken International, a private contractor providing training jets for the US military, acquired several of the aircraft from the Royal New Zealand Air Force.

Scott Poteet, a Draken representative, told reporters the pilot was the only person in the plane and is being treated at Nellis hospital.
He was described as being "one of the most experienced in the squad," with more than 20 years experience.

An A-4 Skyhawk just crashed west of Nellis AFB. Pilot ejected very close to the ground. Massive explosion. Emergency response just arrived.

— Holden Riley (@PlanesAtPaine) August 18, 2016
@lasvegasloopy It was coming in to land from a routine training flight. On its approach to land he got too low and too slow. Stalled.

— Holden Riley (@PlanesAtPaine) August 18, 2016
Update: Nellis master sergeant says civilian aircraft crashed on land adjacent to base @ 7:40. Pilot being treated for minor injuries #RJnow

— Neal Morton (@nealtmorton) August 18, 2016
The cause of the accident remains unknown. It isn't clear if it was human error or a technical fault.
The pilot managed to eject himself from the plane.
According to Poteet, there is "a sequence of events that will occur" to take pilots to the ground once they choose to eject.
While two parachutes were spotted by an eyewitnesses, Poteet clarified that both seats inside the plane are activated when the ejection button is pushed.
The pilot was returning from providing support to Nellis students. A typical mission lasts about 90 minutes and he was part of a "two-ship" at the time.
The Nellis school provides pilots with a six-month program, which is described as being "like getting your PhD in flying."
You can share this story on social media: