Legendary Playboy mansion sold, but Hef gets to live there until he dies (VIDEO)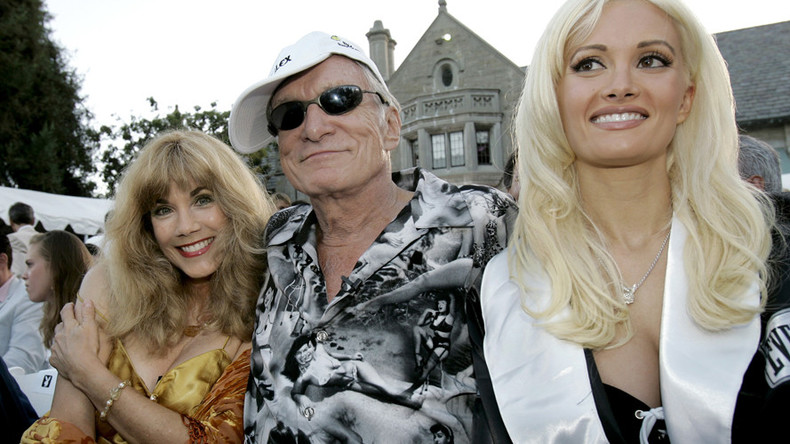 Playboy founder Hugh Hefner has sold his mansion for $100 million to Daren Metropoulos, the son of billionaire Dean Metropoulos, a representative said Tuesday.
But don't worry, the ongoing hedonistic party thrown by 'Hef' since the 1950s ain't over yet.
The 90 year old and his 'bunnies' will still get to live in the mansion until he dies and pay $1 million a year in rent to the principal from private equity firm Metropoulos & Co.
The new buyer said the 1927 Gothic Tudor-style mansion had a "rich and storied legacy."
That's putting it mildly.
Metropoulos owns another property adjacent to the infamous mansion and plans to eventually connect the two estates.
The 33-year-old bought the property, and reportedly everything inside, for just half the price it was initially listed at earlier this year.
Sad to see what douchebag Metropoulos bros are doing to Pabst, especially since Schlitz was making such a good comeback. http://t.co/5D4m4i6

— Chris Foresman (@foresmac) June 7, 2011
While this deal hasn't raised any eyebrows so far, his equity firm's acquisition of another American brand - Hostess - turned into a nightmare for the Twinkie maker's longtime employees.
Initially hailed as saviors of a dying, yet iconic company, they inherited a mess created by its former executives.
In the midst of a strike against a 30 percent wage cut over five years, company heads shutdown 13 factories, began liquidating assets, and "borrowed" from the employees' pension fund. They then declared bankruptcy so they didn't have to pay back their $2 billion liability to the joint pension plan shared with 10 million workers from other companies.
READ MORE: True face of corporate welfare: 27 global companies that paid $0 tax
A judge dealing with the case still handed out golden parachutes to 19 executives, who received severance packages of $1.75 million.
When Dean Metropoulos and Apollo Global Management took over, they took no responsibility for the pension mess, leaving the US taxpayer to help those workers out, and went on to crush the unions to make their newest corporate prize more attractive for flipping to other investors.
@NPR won't ever eat another Hostess product after their shameless union busting.

— Scott Mahurin (@Esinem79) July 5, 2016
Americans are to gluttonous to boycott the beloved hostess and stand up against the companies union busting scheme.

— Hugo Brutus (@BrutusHb) March 25, 2015
Last month, they sold a majority stake in the company for $725 million to another equity firm, after reportedly paying just $410 million four years ago - and the company overall is valued at $1.7 billion.
And now, more scenes from the Playboy mansion during its heyday.