'Aggressive' Koch-related campaign hits South Dakota over donor secrecy initiative – report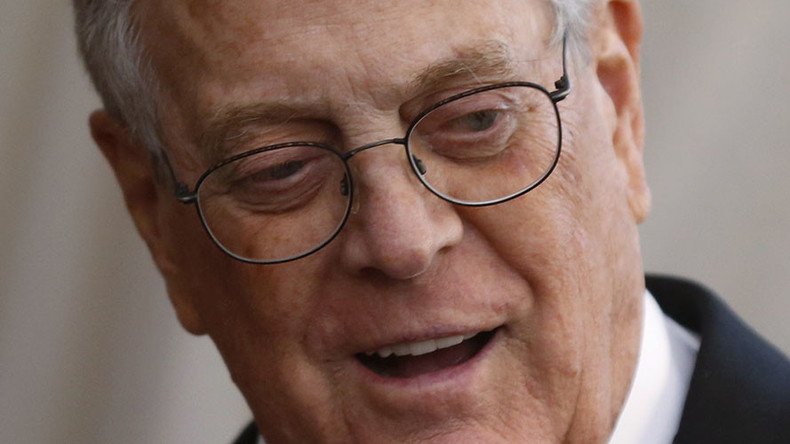 A group linked to the billionaire Koch brothers is reportedly urging South Dakotans through an "aggressive" campaign to shield political donors from government scrutiny and discourage the use of public funds for political campaigns.
Americans for Prosperity (AFP) has launched a network that is now instigating South Dakotans to reject Initiated Measure 22 this November.
Two-and-a-half months out, the AFP-launched coalition, called Defeat 22, is already bombarding the state with radio commercials, phone calls, door knocking and direct mailing, USA Today reported.
The state director of Americans for Prosperity and chairman of Defeat 22, Ben Lee, told the news outlet that they have contacted some 50,000 locals so far.
Defeat 22 is hoping to influence the public to vote against the measure, which in affiliated circles is painted as "money grab to fund political campaigns using your tax dollars."
Defeat 22 is, in particular, targeting a measure that would give a total of $100 in "democracy credits" to every registered voter in South Dakota. Those vouchers then could be redeemed by candidates of their choosing, who opt for taxpayer-funded money in their races. The voucher program would not exceed $12 million, and candidates may not receive unlimited amounts from the state treasury, according to the initiative.
However, AFP's national CEO, Luke Hilgemann, says that "the South Dakota fight" is a struggle not over the funds, but to protect donors' free-speech rights. At the same time, he explains that it is because publicity may lead to threats and divert donors' money away from advocacy groups.
"Wherever there are threats against the First Amendment, we will be there to weigh in," Hilgemann told USA Today.
Networks like those connected to the Koch brothers' can play an outside role on both side of the aisle in US politics. Right-leaning billionaires and their affiliated organizations – from educational to political – accept donations of at least $100,000 annually from hundreds of wealthy sponsors, in exchange for their role in pushing their agenda.
"The chilling of public discourse is a bad path for the country to go on," he said.
Hilgemann says that politicians, who AFP challenges over taxes and policy issues, want to disclose identities of contributors, "because they don't like us bringing these issues to light and holding them accountable."
A large chunk of the Koch network's money goes through nonprofits whose donors are anonymous.
South Dakota's Measure 22 would not prohibit donations to nonprofits active in politics, but it would make them disclose the identities of anyone who gives more than $100 in a calendar year, if they are running independent ads and distributing mailers.
Hilgemann would not disclose to AFP the cost of the South Dakota fight, but it is perceived that the coalition there includes the state's chamber of commerce, the farm bureau, groups representing building contractors and retailers.
South Dakota is just the latest state for AFP's interests to befall. In 2015, their campaign, supported by more than a dozen groups, helped to kill a bill in Georgia that would have required advocacy groups active in state politics to disclose the sources of their money. Plus, earlier this year, AFP's foundation won a federal trial to keep its donors secret in California.
On top of that, the Koch network enjoys support of House Republicans, who in June passed a billionaire-supported bill that seeks to ban the IRS from collecting the names of most donors to tax-exempt groups. Days later, a companion bill was introduced to the Senate by Sen. Tim Scott (R-South Carolina).