15,000-acre fire spreading rapidly in Southern CA, evacuations underway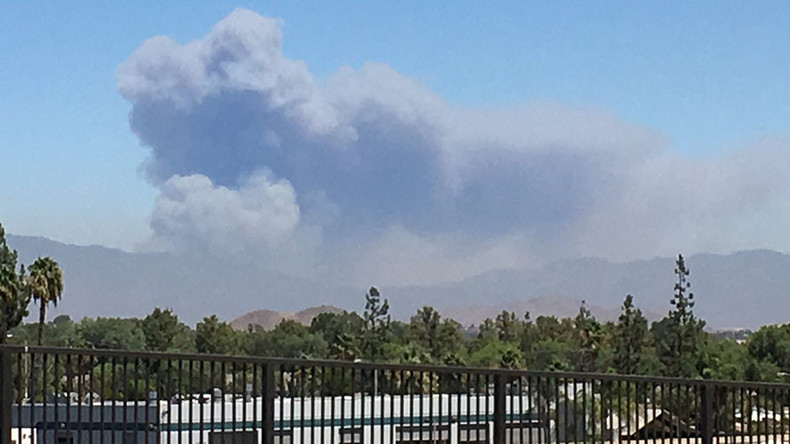 A massive blaze is forcing mass evacuations after shutting down Southern California's Interstate-15, the main route to Las Vegas. The enormous inferno, now covering 15,000 acres, spread across its first 1,000 acres within an hour of its initial spark.
The fire was reported in Devore, California, in the late morning hours of Tuesday, and within an hour, it spread from five acres to over 1,000. By the end of Tuesday, it covered more than 15,000 acres, according to the CAL FIRE San Bernardino Unit Public Information Office.
The uncontained fire broke out near the Cajon Pass, where there have been red flag warnings from the San Bernardino Fire Department, in recognition of gusty winds and low humidity, prime conditions for wildfires.
Evacuations were ordered by the US Forest Service around West Cajon Valley, between Highway 2 and the I-15, KABC reported. At least one structure was seen burning, but no injuries have been reported.
The cause remains unknown.
Officials closed Highway 138 from Highway 2 to Summit Valley Road, and I-15 was shut down from Oak Hills to Devore, KABC reported, citing Caltrans.
Winds are blowing at 10 miles per hour, and with power lines nearby, Southern California Gas Company and Los Angeles Department of Water and Power officials are on scene.
Two San Bernardino fire crews needed to abandon their engines, according to KCBS. A cargo train nearby was also reported to be evacuated and left stopped on the tracks.
More breathtaking, up close and personal images were shared across Twitter.