Woman brutally dangled in air by DC cop provokes outrage online (VIDEO)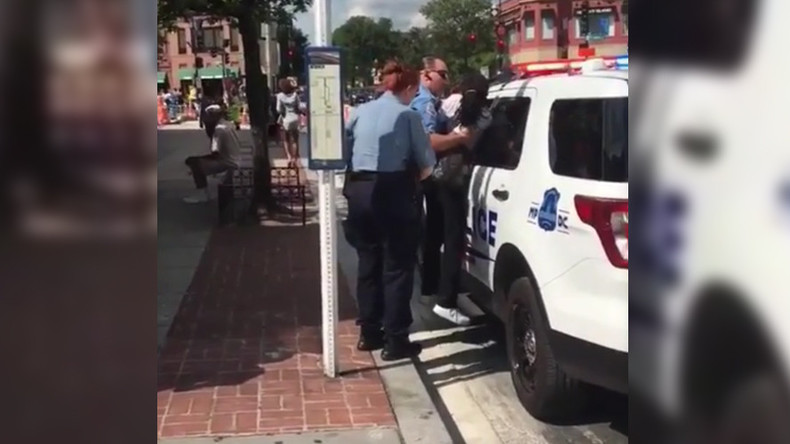 Video has emerged online of a large white Washington DC police officer pressing a small black woman against his patrol car - lifting her feet clean off the ground.
The shocking clip has been retweeted more than 5,000 times and was posted with the comment "I'm TIRED" by @MacAndCheeks, who claims one officer tried to access her phone while she was recording the incident.
This newest example of excessive force comes hot on the heels of deadly battles between police and citizens in Milwaukee, Dallas, and other US cities.
The video shows the woman's feet dangling in the air as a male officer pins her arms to the side of a patrol car.
A female officer can be seen putting on gloves while the incident takes place.
The witness who posted the video expressed shock, claiming the young woman was pinned to the car before any conversation took place with the officer.
"Yes you did. I saw it," are the only audible words in the video said by the officer.
No arrest was made, according to the witness.
The incident occurred at a bus stop outside a CVS Pharmacy on 7th Street NW, close to Howard University.
The witness said the unidentified woman told officers she worked with children and pointed at Cleveland Elementary School.
After the video gained traction on Twitter, DC police tweeted that they were investigating the incident.
"We've been made aware of the video and contacted their commanding officer," department spokeswoman Rachel Schaerr told the Washington Post. "If they did anything wrong, they will be held accountable."
The incident comes after a weekend of protests in Milwaukee sparked by the fatal police shooting of an armed black man.
READ MORE: 2nd anniversary of Michael Brown's death: What's changed?
Last month, five police officers were shot dead by a sniper during a march in downtown Dallas.