Rudy Giuliani breaks golden rule of 9/11: Never forget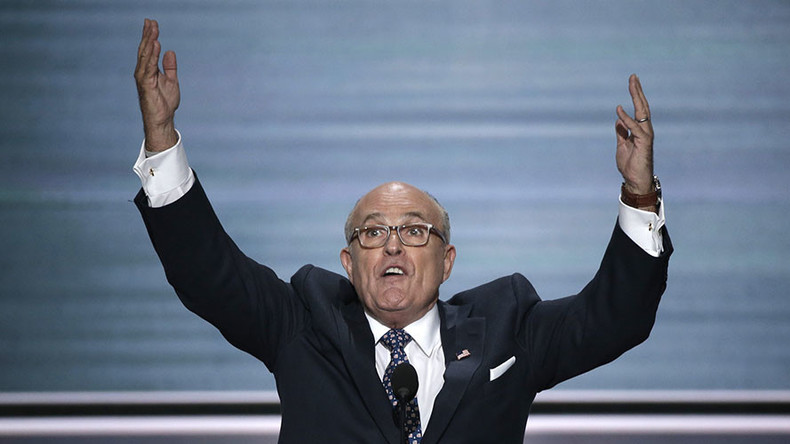 Rudy Giuliani was speaking at a Trump rally in Pennsylvania, when he made an alarming flub. As the mayor of New York City from 1994 until 2001, it was odd when he suggested that no terrorist attack had occurred prior to Obama's presidency.
Giuliani was meant to introduce Republican presidential nominee Donald Trump in Youngstown, Pennsylvania on Monday. Instead, he introduced the first blunder of the week for the Republican campaign.
"Under those eight years, before Obama came along, we didn't have any successful radical Islamic terrorist attack inside the United States," the man once known as America's Mayor said.
Those terrorist attacks on September 11, 2001 that hit Washington, DC, New York City and a failed attack that resulted in a plane crash in a Pennsylvania field? Apparently Giuliani forgot all about them.
Giuliani was known for many things as mayor of New York City, such as when he referred to a man killed by police as "no altar boy" – despite the man having actually been an altar boy – or arresting homeless people or his alleged mob ties. However, nothing was more closely affiliated with his term as mayor than the attack on the World Trade Center in Manhattan.
While appearing to forget 9/11, he also skirted over a 2002 incident when a man opened fire at the ticket counter at Los Angeles International Airport, leaving three dead, or the 2006 attack at the University of North Carolina Chapel Hill that injured nine people.
This is not the first time Giuliani's memory has failed him. In 2010, he went on Good Morning America to also forget about September 11th, saying, "What he [Obama] should be doing is following the right things that Bush did – one of the right things he did was treat this as a war on terror. We had no domestic attacks under Bush."
Perhaps time heals all wounds ... or perhaps Giuliani should remember to never forget.