Hot air: Trump's supporters pass out at overheated Connecticut rally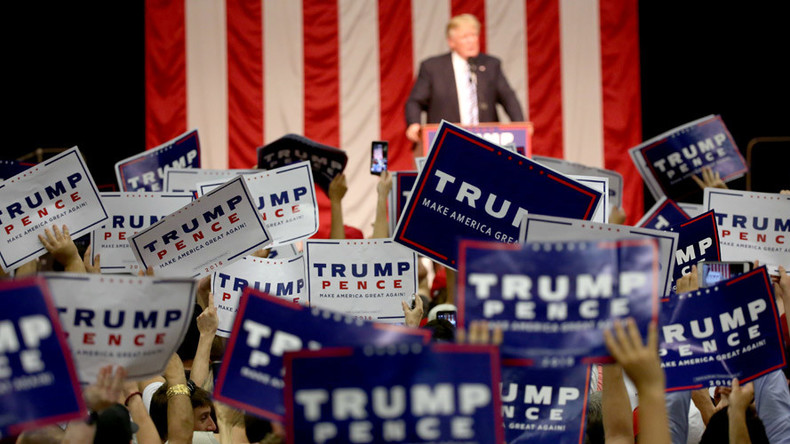 Emergency services were called to the scene of Republic presidential candidate Donald Trump's rally in Connecticut, US, as people began to pass out due to high temperatures and little air inside the venue.
Twitter reports from the venue soon appeared on social media, showing photos and videos of people trying to cool down and using paper as fans.
There were reports of at least five people collapsing due to overheating. Witnesses said emergency services quickly attended to anyone who passed out.
"5 and counting people have fainted at this #trump #rally," Ben Field tweeted.
"Apparently the Trump rally tonight is so hot multiple people are passing out.... are we POSITIVE that this isn't performance art?" Mark Shultz wrote.
Journalists posted a video of using signs to fan themselves.
Trump was speaking at the Sacred Heart University. The university's basketball arena was stuffed with between 4,000 to 5,000 people and reportedly felt like a sauna during Trump's speech.
The rally was preceded with long lineups.
Trump was scheduled to start speaking at 7 p.m. local time, but his speech started 30 minutes later.
The boisterous Republican candidate did not wait long to drop a couple of phrases that some of the onlookers deemed controversial.
Right after taking the stage, he asked: "How did you lose General Electric? You have a bad governor." Trump then seemingly admitted to sometimes lying to Americans.
"I might lie to you, like Hillary does all the time, but I will never lie to Jacamo," he said.
Later Trump said that he would be willing to move back to Connecticut since he lived in Greenwich in the past, but noted that the taxes are too high. "Your taxes are through the roof, too high."
In the background, the crowd was heard chanting: "Lock her [Hillary Clinton] up," with Trump saying meanwhile that the media is protecting Hillary. "I'm not running against crooked Hillary, but the crooked media," he said.