CNN called out for (incorrect) onscreen 'fact check' of Trump's claim Obama founded ISIS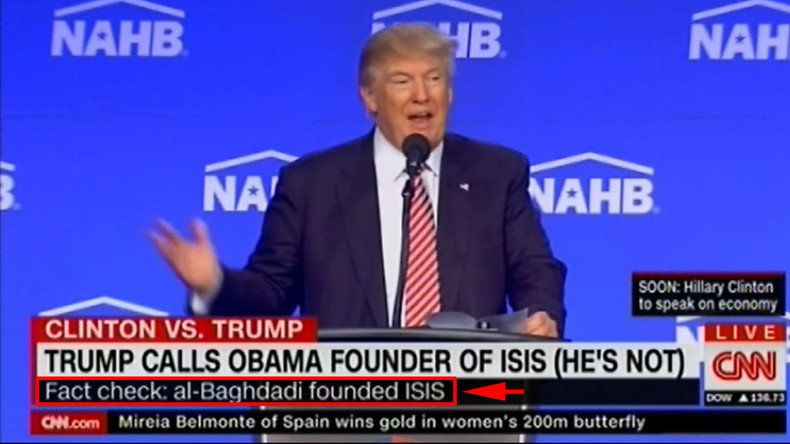 CNN is continuing to conduct instantaneous onscreen fact checks during the US presidential campaign – well for one candidate, at least. The network called out Trump for saying Obama was the founder of Islamic State with the caption "he's not" in brackets.
READ MORE: Trump calls Obama 'founder of ISIS' with Clinton as 'co-founder'
Below the catching headline graphic, the station points out this is a fact check, while stating that al-Baghdadi was the founder of Islamic State (IS, formerly ISIS/ISIL).
It wasn't long, however, until CNN's "fact check" was trumped by others who noted that Abu Musab al-Zarqawi was actually the founder of the terrorist group, while Abu Bakr al-Baghdadi is its leader.
The main issue many had with the "factcheck" was not that it was incorrect, but that this practice has been employed on a number of occasions with respect to statements made by Republican presidential candidate Donald Trump, but not for Democratic contestant Hillary Clinton.
Even Fox News has called out its rival for its partisan election coverage.
Trump himself took to Twitter to address the controversy, dismissing his comments as "sarcasm".
CNN used a similar graphic in June to debunk comments Trump made related to whether Japan should have access to nuclear weapons. "Trump: I never said Japan should have nukes (he did)," the chryon read.
Last week, after Trump's son Eric claimed that his father had apologized to the family of a fallen soldier for comments he made about their son, CNN headlined the report, "Trump's son: Father apologized to Khans (He hasn't)."
You can share this story on social media: