Black teacher given KKK robe, Confederate flag at conference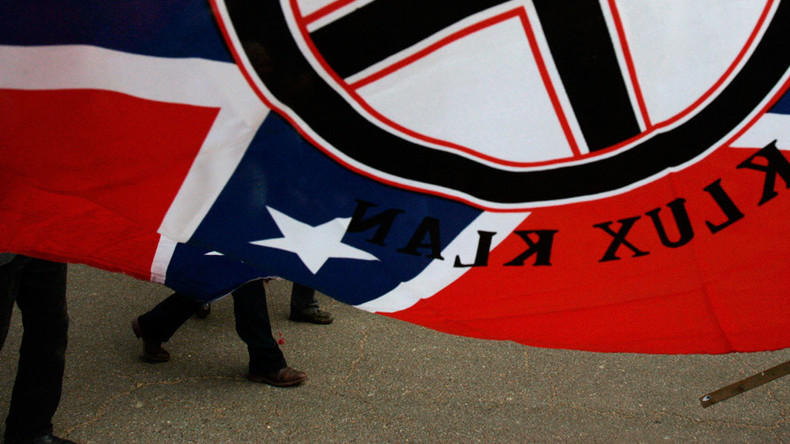 It may have been intended as a joke, but no one is laughing. Oklahoma's only black agriculture teacher was called to the stage during a work-related conference and handed a Ku Klux Klan robe and a Confederate flag by his retiring mentor.
The stunning incident took place at the Career Tech conference in Oklahoma City, on August 2, and was first reported in an anonymous email. Hundreds of teachers attended the event.
The email also said that in district meetings after the main program, attendees were told that their cellphone video and pictures would be erased when they left the room.
An internal investigation by the Oklahoma Department of Career and Technology Education confirmed on Wednesday that the black instructor was given a robe and hood, but could not confirm whether a Confederate flag was also presented to him, according Tulsa World. The investigative team is looking into the censorship accusation as well.
"The Oklahoma Department of Career and Technology Education became aware of some deplorable actions and comments made last week at one of our breakout sessions during the summer conference in Oklahoma City," said Paula Bowles, a spokeswoman for the agency, according to Tulsa World. "As soon as the department was made aware of the situation, an internal investigation was launched."
"The agency does not condone or tolerate such action," Bowles added, and "we are taking steps to ensure this does not occur in the future… This incident is not representative of the CareerTech system throughout the state."
Larry Long, who retired from Elk City High School after 49 years of teaching, was being recognized at the conference. He invited the African-American colleague to join him on stage, and presented him with the items "as a joke," The Oklahoman reported.
Long has since apologized to the black instructor, who has not been named, KOKH reported.
According to Career Tech Director Marcie Mack, the instructor was "not upset" by the gesture.
The Oklahoma Legislative Black Caucus, however, called the incident "another example of insensitivity and ignorance."
"We believe public words and actions have consequences. This is an extremely sensitive time in our nation as it related to race and sensitivity to differences. Therefore, our focus is on specific consequences for the individual that believed it was okay to 'joke' with a black person in such bad taste and publicly utilizing items associated with the KKK," the Caucus said. "We recommend that the individual whom we have been told initiated this action be removed from all boards related to public entities of any kind. Board positions are leadership positions and this type of leadership should not be tolerated in the state of Oklahoma."
State Senator Kevin Matthews, chairman of the Legislative Black Caucus, has spoken to Career-Tech and suggested that corrective action should be focused on increasing minority representation in agriculture education and agriculture in general.
"This is the sort of thing that happens without diversity in a group," Matthews said.