'CNN story a hoax': Secret Service held no formal talks with Trump over 2nd Amendment remarks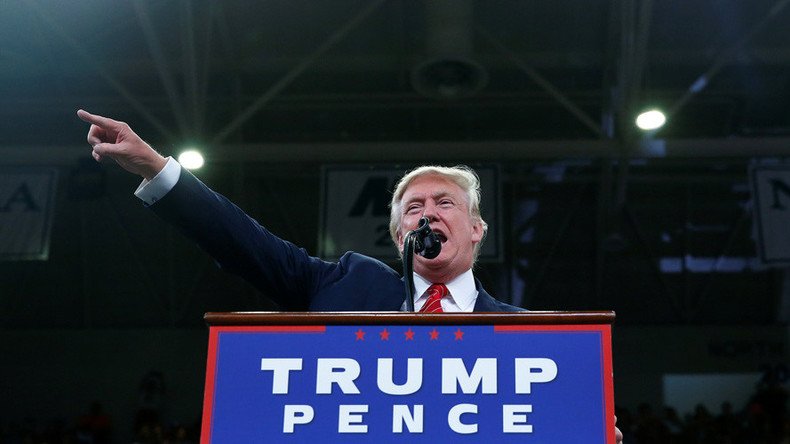 The Secret Service has not formally spoken to Donald Trump regarding a suggestion that "Second Amendment people" could stop Hillary Clinton from curbing gun rights, according to a federal official. CNN previously reported that the agency had done so.
Speaking at a rally in North Carolina on Tuesday, Trump said: "If [Hillary Clinton] gets to pick her judges, nothing you can do folks." He then went on to state: "Although the Second Amendment people, maybe there is, I don't know."
The comments led many to wonder whether Trump was suggesting that gun owners turn their weapons on his rival.
While Trump's critics seethed at the potential meaning behind his statement, his campaign launched a statement which insisted the remark was about "unification" of "Second Amendment people," blaming the angry frenzy on a "dishonest media" which was quick to report a false narrative.
But less than 24 hours after the remarks were made, CNN reported that the Secret Service had confirmed to reporter Jim Sciutto that the agency had taken part in multiple conversations with Trump following his comments.
But Trump has insisted that no such conversation ever happened, and accused CNN of making up the report.
A federal official familiar with the matter also told Reuters that there had been no formal conversations between the Secret Service and the Trump campaign regarding the Tuesday statements.
But investigation or no investigation, Trump's critics remain angry – including former US Representative Gabrielle Giffords, who herself was a victim of gun violence in 2011.
"Donald Trump might astound Americans on a routine basis, but we must draw a bright red line between political speech and suggestions of violence," she wrote in a statement jointly released with her husband Mark Kelly.
Patti Davis, the daughter of former US President Ronald Reagan, also lashed out at Trump for his remarks.
"Your glib and horrifying comment about 'Second Amendment people' was heard around the world. It was heard by sane and decent people who shudder at your fondness for verbal violence," she wrote in a Facebook post, reminding that her father was shot in an assassination attempt.
You can share this story on social media: