Clinton's VP questions legality of waging war on Islamic State in Libya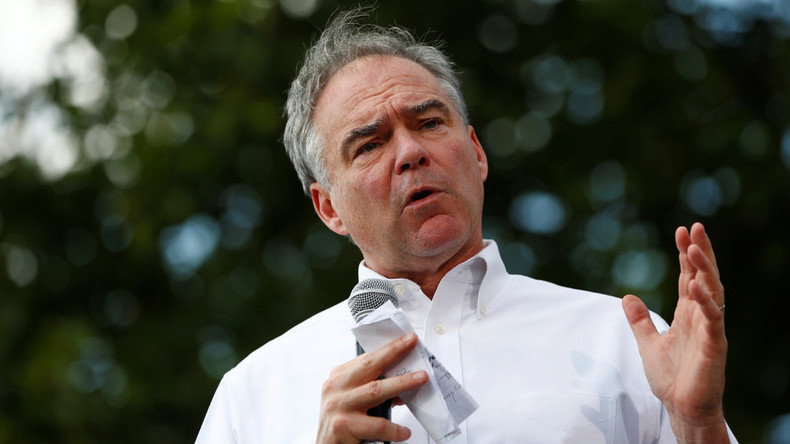 Clinton's running mate, Tim Kaine, has said he doesn't think the United States has the legal authority to bomb the Islamic State in Libya without Congressional authorization. The US launched strikes against ISIS last week.
"I have very grave doubts about whether the legal authorities currently in place allow us to wage an offensive war against ISIL," Senator Kaine told NBC on Sunday. "But Secretary Clinton and I get to exactly the same spot" on pushing Congress to authorize military action, he added.
The comment was made as the US launched airstrikes against Islamic State (IS, formerly ISIS/ISIL) in Libya last week.
An Obama administration press secretary told reporters "the airstrikes were at the request of Libya's Government of National Accord, and were in support of government-aligned forces as they fight to retake Sirte from ISIL … and support the government's efforts to secure the country."
It is the third time US forces have attacked IS in Libya on behalf of the UN-backed Tripoli government, but this time the airstrikes were in support of ground troops trying to retake the coastal city of Sirte.
Kaine's statement also marked a departure from one by Hillary Clinton, who had said during her campaign in 2015 the war authorization Congress passed in 2001 "certainly" covered the fight against Islamic State (IS, formerly ISIS/ISIL).
President Obama has also argued that the open-ended language of the 2001 war authorization gives legal authority for the campaign against IS. And yet, in February 2015, Obama made the case before Congress to formally authorize the use of military force in the war against IS.
"Now, make no mistake, this is a difficult mission and it will remain difficult for some time," he said during an afternoon press conference. But, he added, "Our coalition is on the offensive, ISIL is on the defensive and ISIL is going to lose."
The resolution, if it had been passed in February, would have formally authorized the already six-month old US military effort against IS, and would have limited the president's authority to three.
There was broad support for a formal AUMF though lawmakers disagree on the scope of military powers that should be handed to the President.
"Secretary Clinton has said Congress should do its job instead of hiding under their desks, and have a debate and have a vote on military action against ISIL," Sen. Kaine told NBC. "If we do that, I'm confident that Congress would support military action. But what we see is a Congress that doesn't want to vote yes or no."