SkyFire: Tiny cube satellite to probe Moon mysteries (VIDEO)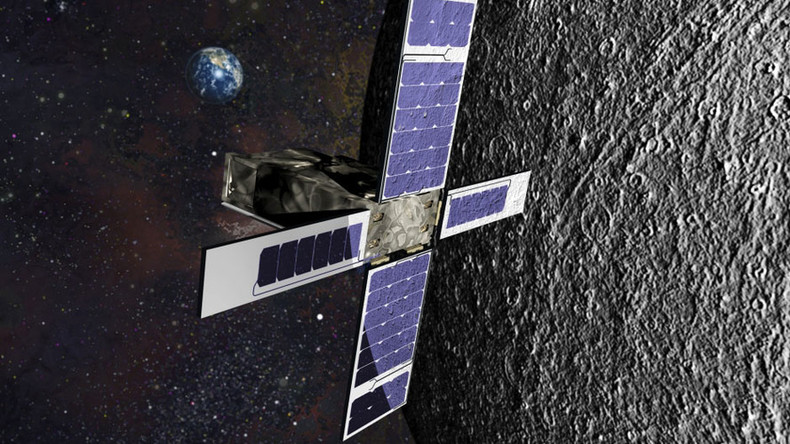 A tiny probe armed with new infrared scanning technology will be on board NASA's 2018 exploration mission to the moon, along with a dozen similar "cube satellites." Dubbed SkyFire, it is a joint venture between the US space agency and Lockheed Martin.
On Monday, Lockheed announced that NASA has given final approval for SkyFire, securing its slot aboard the first Exploration Mission (EM-1). The primary mission, scheduled for September 2018, will be a test of NASA's Space Launch System (SLS) and the Orion Multi-Purpose Crew Vehicle. SkyFire and other "cubesats" will be part of the secondary payload.
Also known as U-class spacecraft, "cubesats" are space probes that consist of one or more 10-centimeter (3.9 inch) cubes.
"SkyFire's lunar flyby will pioneer brand new infrared technology, enabling scientists to fill strategic gaps in lunar knowledge that have implications for future human space exploration," John Ringelberg, Lockheed Martin's SkyFire project manager, said in a statement.
"The CubeSat will look for specific lunar characteristics like solar illumination areas," added James Russell, principal investigator on the SkyFire program. "We'll be able to see new things with sensors that are less costly to make and send to space."
If the technology proves successful, SkyFire could be used as a cost-effective probe to analyze other planets before human explorers arrive – from analyzing soil conditions to figuring out the most livable location and the best landing sites, the Bethesda, Maryland-based company said.
The focus on inexpensive mini-satellites is somewhat of a departure for Lockheed Martin, known as a mammoth military contractor behind such mega-projects as the $1.5 trillion F-35 Lightning II Joint Strike Fighter or the $362 million Freedom-class Littoral Combat Ship. Most of the development team is drawn from "early-career engineers in partnership with the University of Colorado Boulder," Lockheed noted in the statement.
SkyFire is the result of public-private partnerships NASA has been developing as part of its NextSTEP (Space Technologies for Exploration Partnerships) program.