Ex-CIA head endorsement of 'prepared, detailed-oriented' Hillary Clinton sparks Twitter mockery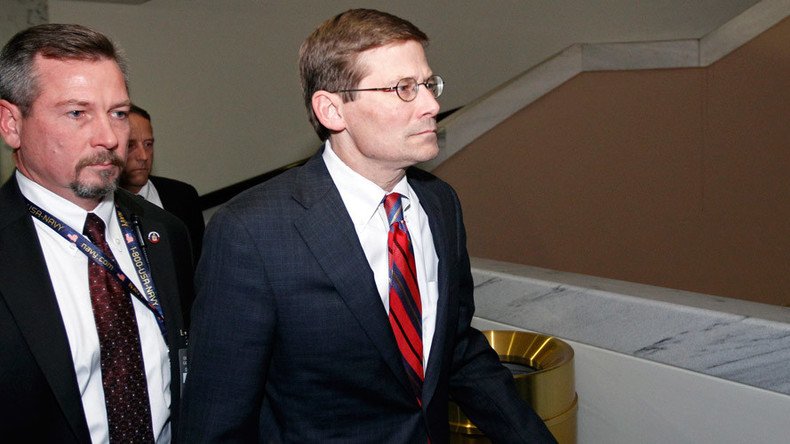 Michael Morell, the former head of the CIA, endorsed Democratic nominee Hillary Clinton and said that Donald Trump was an "unwitting agent" of Russia. Twitter exploded with reactions listing all the vices and virtues of the agency and Clinton.
In a New York Times opinion piece published Friday, Morrell, who was acting director the CIA in 2011 and again 2012 to 2013, said that he had previously been silent on who he was voting for throughout his tenure at the agency and had never been registered as a Democrat or a Republican.

"No longer," he wrote. "On Nov. 8, I will vote for Hillary Clinton. Between now and then, I will do everything I can to ensure that she is elected as our 45th president."
His reasoning is twofold: he believes that Clinton is qualified to be commander-in-chief and believes that Trump might pose a threat to national security.
"I also saw the secretary's commitment to our nation's security; her belief that America is an exceptional nation that must lead in the world for the country to remain secure and prosperous; her understanding that diplomacy can be effective only if the country is perceived as willing and able to use force if necessary; and, most important, her capacity to make the most difficult decision of all – whether to put young American women and men in harm's way," Morell wrote.
Twitter pounced on news of the endorsement, with some accepting the endorsement at face value.
Others pointed out the contradictions between her foreign policy and handling of classified emails as secretary of state and her supposed commitment to security.
Some implied that, because the CIA is an organization built on secrecy and subterfuge, an endorsement from the head of the agency doesn't mean much.
Morell goes as far as calling Trump an "unwitting agent of the Russian Federation," referring to the hack of the Democratic National Committee's (DNC) database, which some pundits claim was a ploy by Russian intelligence agencies to influence the election by revealing emails that show collusion between the Clinton campaign and the officially neutral DNC.

"President Vladimir V. Putin of Russia was a career intelligence officer, trained to identify vulnerabilities in an individual and to exploit them," Morell wrote. That is exactly what he did early in the primaries. Mr. Putin played upon Mr. Trump's vulnerabilities by complimenting him. He responded just as Mr. Putin had calculated."
Morell's stance seems to switch around the typical Republican-hawk-Democrat-dove formula, praising her for being a "proponent of a more aggressive approach" in Syria, a point that is in line with Clinton positioning herself as the national security candidate.
Trump shrugged off the criticism from the former spying head, saying that in fact Clinton, during her tenure secretary of state under President Obama that that led to so many national security disasters.

"Hillary Clinton and President Obama bear the direct responsibility of destabilizing the Middle East, having let ISIS take firm hold in Iraq, Libya and Syria, not to mention their allowing Americans to be slaughtered at Benghazi," he wrote in a statement.
He went to say that Morell's endorsement is simply another stunt by the Clinton campaign, and that the former CIA head is "another Obama-Clinton pawn."
You can share this story on social media: