Dramatic rise in suicides among US veterans, 30% increase since 2001 – study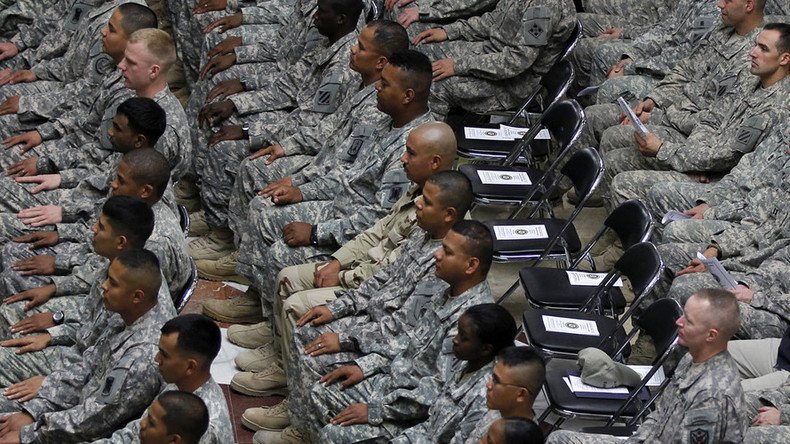 The suicide rate among American veterans has increased dramatically over the last 35 years, with the largest government analysis ever conducted on veteran suicide saying it rose more than 30 percent since 2001 – a bigger spike than in the wider US population.
The study released by the US Veterans Affairs Department (VA) examined over 55 million veterans' records from 1979 to 2014 from every state across the US and four territories. It found that since 2001, adult civilian suicides rose 23 percent, while veteran suicides increased 32 percent.
According to the report, an average of 20 veterans a day died from suicide in 2014 (about 7,300 in the year), compared to a previous estimate of 22 a day provided by a study of a smaller sample of 3 million records.
The most common means for suicide among veterans is said to be firearms, with an estimated 41 percent of female and 68 percent of male suicide deaths resulting from a firearm injury in 2014.
While the use of firearms as a means for suicide decreased among civilians from 2001 to 2014, it remained stable among veterans. "These results strongly suggest that firearms safety initiatives are likely an important component of an effective suicide prevention strategy for male and female veterans," the report noted.
Among male veterans, suicide rates appeared to be highest in the younger and older years, and among female veterans in their younger years. In 2014, about 65 percent of all veterans who committed suicide were aged 50 or older.
Taking into account differences in age, the risk of suicide was 18 percent higher among male veterans, compared with US civilian adult males.
"Findings included in this report highlight the complex relationships between a history of US military service and suicide risk," the report noted.
The study highlighted sharp differences between the suicide rates of those who used VA services compared to those who didn't. Since 2001, the rate of suicide among veterans using VA services increased by 8.8 percent, while the suicide rate among those choosing not to use them rose more than 38 percent.
Over the same time period, the rate of suicide among female veterans using VA services increased 4.6 percent, but skyrocketed 98 percent for those who didn't.
The authors of the report did not provide any reasons why these differences occurred.
You can share this story on social media: