Twitter erupts at 'hypocrite' Trump after reports of wife's apparent visa issues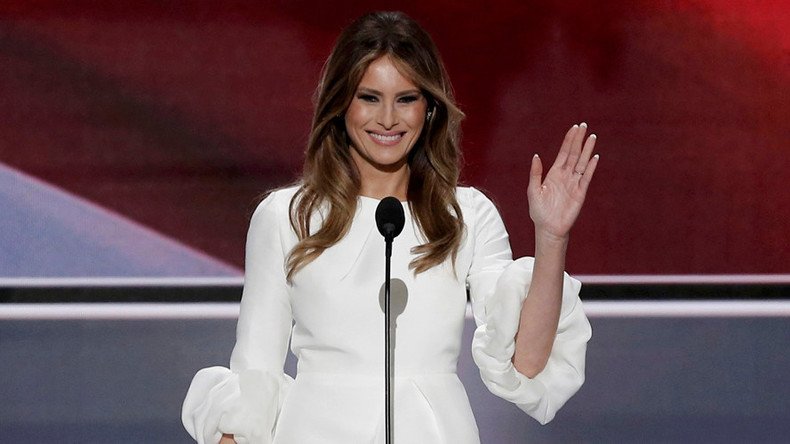 While Twitterers were busy analyzing Melania Trump's adult-friendly photos, a new dose of hot revelations emerged. Reports of allegedly illegal modeling work have stoked an immigration status controversy, with many on social media calling Donald Trump a hypocrite.
Reporters at Politico have dug deep into Trump's wife's journey to try and achieve the "American dream," and they found some "gaps" in her immigration story.
Enjoying the media's keen interest, Melania has repeatedly told the story of her arrival to New York City as a model back in 1996. And this is where inconsistencies begin, according to reports.
Ale de Basseville, the photographer who shot Mrs. Trump's nude photos, told Politico that he snapped the shots in a studio near Manhattan's Union Square in 1995, not 1996.
Then there is the would-be Melania's first known roommate, Matthew Atanian, who has told reporters that he and the then-future Mrs. Trump shared an apartment for a year and a half between 1995 and 1996.
As far as Melania's story goes, she had to go back to her home country of Slovenia to "stamp the visa" every so often, until she eventually applied for a green card "after a few visas." She eventually obtained her US citizenship in 2006.
Sharing details of her immigration routine, Mrs. Trump mentioned that she came on an H-1B visa, which allows foreigners to work in the US, and never intended to violate the law.
Yet, Politico says there is "a slim chance" that during the 1995 New York photo shoot, Melania worked illegally while visiting on a tourist visa.
It is unlikely, Politico says, that she qualified for an O-1, a visa for foreigners with "extraordinary ability."
Politico's revelations have stirred a heated discussion on Twitter, prompting many to point out the Republican presidential nominee's hypocrisy.
The billionaire businessman is making immigration and unlawful employment the cornerstone issues of his campaign.
In March, Trump also vowed to end the H-1B visa once he becomes president, because "it's very, very bad" for American workers.
"I know the H1-B very well," he said then.
Trump continues to promise that in order to stop the flow of illegal immigrants from Mexico as president, he is going to build a wall. But it was a parody account that guaranteed a wall to be built around Trump's wife.
Experts have told Politico that Melania Trump might still face some legal problems should she have been lying about the purpose of her trip in 1995.
You can share this story on social media: