Feds investigate pipe bomb attack on Maryland police cruiser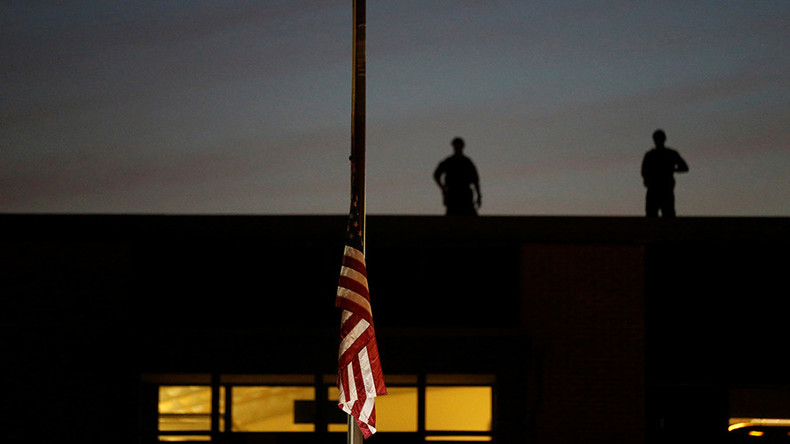 Federal agents joined local police to investigate a pipe bomb explosion that damaged a Maryland police vehicle. No one was injured but the explosion sent shrapnel into a nearby house and damaged the cruiser's windshield.
Residents began calling 911 early Wednesday morning complaining about what sounded like an explosion in Thurmont, a town in suburban Maryland.
"One of my officers went to his residence and parked his cruiser on the street as he usually does at about midnight and then around 12:30 one of the neighbors heard a big explosion," Thurmont police Chief Greg Eyler told The Frederick News-Post. "It looked like a metal pipe bomb was detonated on the hood and the windshield of the cruiser."
Agents from the Bureau of Alcohol, Tobacco, Firearms and Explosives (ATF) were assisting local police to process the crime scene. A certified explosives specialist and a special agent canine handler were providing assistance.
"We're going to provide all the resources that we have, speaking in generalities we have our national laboratory relatively close by in Beltsville, Maryland," David Cheplak, spokesman for the ATF's Baltimore filed office, told reporters. "So we'll be able to take any evidence that may be available and put that in the hands of our experts that work these types of incidents."
Remnants of the explosive device were recovered from the vehicle, a marked Chevrolet Tahoe, and authorities are still trying to determine what the device was made of.
"We'll be checking numerous hardware stores to maybe see where the metal pipe was purchased from … we're just trying to get everything together," Eyler told the News-Post. "It's still a very preliminary investigation at this point."
No one was injured in the explosion but shrapnel hit a nearby house and the cruiser's windshield was damaged. There have been no arrests.
Investigators are not sure about the motive, but with the recent shooting deaths of five police officers in Dallas, Texas and three in Baton Rouge, Louisiana, they're not ruling anything out, according to CBS News.
In a related story, someone shot out the window of a Wyandotte County Sheriff's vehicle on Wednesday. No one was hurt, according to KSHB-TV, Missouri.