'It's a high crime area': Woman wearing traditional Muslim clothing kicked out of store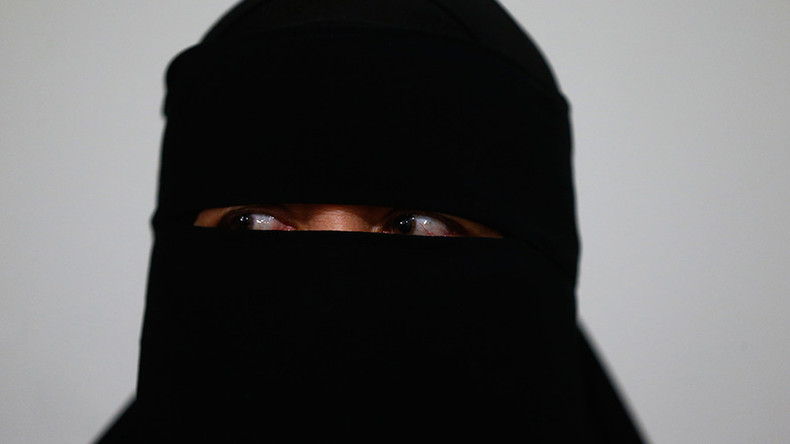 An Indiana woman fully covered in Muslim garb was booted from a Family Dollar store in Indiana after refusing to take off her niqab and hijab to show her face. She recorded the incident on video.
American-born Sarah Safi told WLS-TV she had gone to the store to buy charcoal for a family barbeque. She was wearing a hijab and niqab – a full robe and cowl – for religious purposes, which she always does when she goes out, and said she had been to the store before.
"I might have made it 10 steps into the store and I hear the lady behind the counter say, 'Ma'am, if you can't remove that from off your face you need to leave my store,'" Safi told WLS-TV. She recorded the exchange on her cell phone.
Safi told the clerk she was wearing the garb for religious purposes.
"I understand but you have to understand, too, this is a high crime area and we get robbed a lot. You need to remove that from your face or remove yourself from the store," the manager said on the video.
Safi persisted reminding the manager of protections under the US Constitution.
"This country is a country of freedom of religion, freedom of speech, and I have a right to wear whatever I want," Safi told her.
The manager replied that she would call the police if Safi did not leave, while the employee accompanied her exit with a "Have a blessed day," the video shows.
Safi told WLS she had to make a decision whether to involve the police and have her children, who were waiting outside in the car, witness their mother confronted by police. She decided to leave, but she was upset about the discrimination.
"I'm really saddened. I was born here, raised here all my life and I've never been to an establishment and been treated like this," she said.
Safi said she had been covering her face in public for years, and the only thing she wants is for the Family Dollar employee to apologize.
"I would like to sit with her and speak to her about what I believe in, because maybe if she heard and really listened to what I believe it I would open her heart," she told the news outlet.
In separate incident in Indiana last October, a 19-year-old university student was arrested for shouting racial slurs and trying to strangle a Muslim woman in a café in Bloomington.
The woman at the center of the attack, who remains unnamed, said Triceten Bickford approached her yelling "white power, white power," as well as anti-black slurs and "kill the police." Things escalated when he yanked her scarf, said the police affidavit, according to the Fort Wayne News Sentinel.
"I found him at my neck, like pushing me down, squeezing my neck, and putting my head to the table," the woman, who is a Turkish Muslim, told WHTR.
The woman told WHTR that she had lived in the US for 18 years and never experienced any type of discrimination, let alone an all-out attack. Her nine-year-old daughter, who was with her, witnessed the entire thing. The FBI was looking into whether to file federal hate crime charges against Bickford.