Farm feud: Monsanto and its clients under fire for damaging crops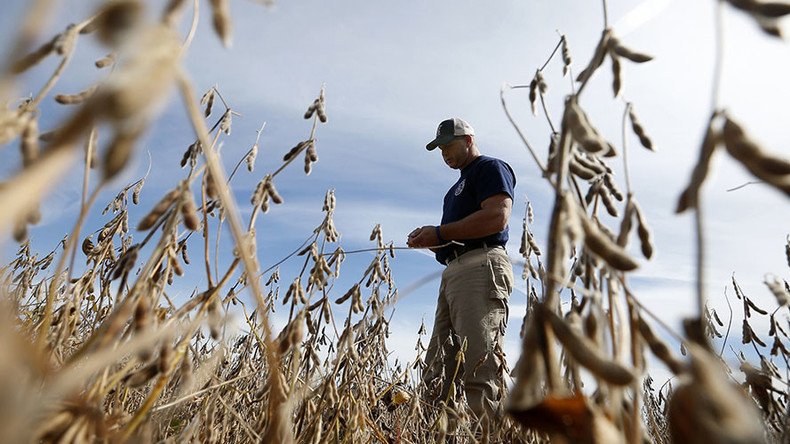 Farmers in Arkansas, Tennessee and southern Missouri are angry at their neighbors – and agrochemical giant Monsanto – over a new weed-killer that has ravaged 200,000 acres of soybean fields. The herbicide is used to treat Monsanto's new strand of soy.
As controversies mount over its glyphosate-based herbicide, also known as Roundup, the Missouri-based Monsanto has rolled out a new soybean seed intended to be resistant to another weed-killer, known as dicamba. While the "Roundup Ready 2 Xtend" soy has been approved for planting in 2016, US federal regulators have yet to approve the use of dicamba.
Farmers who bought Monsanto's seeds have taken to spraying their crops with dicamba obtained from other vendors – which is prone to drifting into neighboring fields, severely damaging the non-Xtend crops. Officials across the three states cite a "rough figure" of 200,000 acres affected by the drift, Delta Farm Press reported.
Breaking: 3 Major Problems With Monsanto's New GMO Soybeans, resistant to Roundup & dicamba harming farmers fields https://t.co/WuzIjpgzn8

— Food Democracy Now! (@food_democracy) August 3, 2016
"Dicamba is a chemical that really blows easily in the wind. And it is really toxic to regular old soybeans," according to Dan Charles of National Public Radio. "A lot of people are quite angry, mostly at their neighbors but also at Monsanto for putting this seed out there on the market."
"We wouldn't have this problem," if Monsanto had waited for regulatory approval for dicamba before selling their new soybean strand, Mike Wallace – a farmer in Monette, Arkansas whose crops were damaged by the drift – told the Wall Street Journal.
Monsanto officials painstakingly pointed out that their own dicamba product should be drift-proof, but is not yet approved for use.
"[A]t this time, there is no approved chemistry over-the-top for the Xtend crop system," company spokesman Dan Urnikis told Delta Farm Press.
Asked about the decision to roll out the seeds before the pesticide was approved, Urnikis said that the farmers asked for the new strand, believing it would boost their yield.
"Our best products continue to sit on the shelf," Urnikis said. "We chose to launch this year to allow growers to experience the industry-leading varieties of Roundup Ready 2 Xtend soybeans. They can plant with confidence this year in anticipation of the chemical approval for the 2017 growing season."
When exposed to dicamba, regular soy plants end up with deformed leaves and their growth is stunted, according to agronomist Tom Barber of the University of Arkansas. Farmers in the area may have no choice but to buy Monsanto's new crop, if they want to stay in business.
"They're afraid that they're not going to be able to grow what they want to grow," Barber told NPR. "They're afraid that they're going to be forced to go with that technology."
Other scientists point out that dicamba may not be effective against "superweeds" currently plaguing the soy farmers, such as the Roundup-resistant pigweed. University of Arkansas agronomist Jason Norsworthy discovered in greenhouse experiments that pigweed could evolve into a dicamba-resistant strain in just three generations, NPR reported. Dicamba-resistant weeds have already been found in Kansas and Nebraska, EcoWatch reported in July.
Meanwhile, farmers growing the new Monsanto soy are using drift-prone dicamba, undeterred by the $1,000 fines.
"The farmers are flat out telling us that 'we'll write you a check'," Susie Nichols from the Arkansas State Plant Board told the Wall Street Journal.
You can share this story on social media: