Penthouse, Hustler magazines up in arms over 'Mormon war on porn'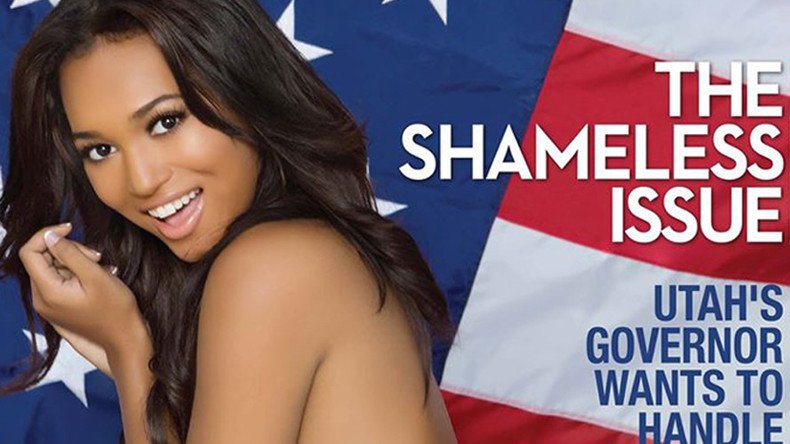 Penthouse and Hustler magazines know a great deal about screwing. Now, they're telling Utah legislators, "Screw you!" At issue is the Beehive State's belief that pornography is a public health crisis, seemingly at the behest of the Mormon Church.
The July/August issue of Penthouse, a softcore porn magazine, is focused on the political power of the Church of Jesus Christ of Latter-Day Saints (LDS) in Utah, the epicenter of the Mormon religion. Entitled 'The Shameless Issue', it features an eight-page article called 'Utah's Governor Wants to Handle Your Penis," written by Huffington Post staff writer Andy Campbell. Its subheadline is "The Mormon war on porn is coming for you."
Copies were sent to important political and religious leaders in Utah.
"We sent over the new issue to several folks in Utah, including Governor Gary Herbert, and the heads of the Church in Salt Lake City," Raphie Aronowitz, Penthouse's editor-in-chief, said in a statement. "Since the Mormon Church brings its unsolicited moral, religious, and political values to our doorsteps, we decided to return the favor."
In March, Utah became the first state to declare porn "a public health hazard leading to a broad spectrum of individual and public health impacts and societal harms" in a concurrent resolution.
A month later, Herbert, a Republican serving his second term as governor, signed that resolution aiming to combat "a sexually toxic environment" in the Beehive State caused by porn.
The resolution, SCR 9, was introduced by state Senator Todd Weiler, a Republican and a Mormon. It recognizes both that pornography is a public health problem and "the need for education, prevention, research, and policy change at the community and societal level in order to address the pornography epidemic that is harming the people of our state and nation."
Penthouse took issue with the declaration, blaming it on the "hyper-conservative" LDS Church.
"The Mormon Church has a long-standing tradition of repression and control over its local residents in Utah," Aronowitz said. "It has now permeated the roots of local and national politics, and influenced policy."
The Campbell piece argues that SCR 9, which does not make porn illegal, is based on faulty science and was a waste of time and energy by the state legislature.
"Nobody wants to show their young children pornography, much like nobody wants their toddler driving to preschool," the article reads. "By the same token, nobody wants their government — or that government's preferred religion — to define their sexuality. Even the LDS Church touts free agency and 'the privilege of choice which was introduced by God'."
There's common ground between Penthouse and Weiler on that point.
"I've never pretended to ban pornography for adults. I think adults have the right to choose," Weiler told the Salt Lake Tribune. "Everything I've done with pornography has been about protecting children and, hopefully, Penthouse isn't selling their magazine to children."
Penthouse isn't the only softcore magazine up in arms over the Mormon "war on porn." In June, Hustler Magazine, at the behest of infamous founder Larry Flynt, also sent issues to Utah legislators… who were not amused, especially because the black, plastic-wrapped packages were sent to their homes, as opposed to their offices.
"It's highly inappropriate to send to our homes where our families and kids can see it," Representative Jake Anderegg told the Salt Lake Tribune.
Evan Roosevelt, spokesman for the Flynt Management Group, said that the magazines were supposed to go to the official mailing addresses listed on the state's website, and were designed to send lawmakers a message that Hustler and similar media are not dangerous.
"Utah, in our eyes and [Flynt's] eyes, is only dragging this out to satisfy religious zealots in the state, so we wanted to remind everyone that this is not a crisis, but a political opportunity for legislators," Roosevelt said.
The Penthouse cover features model Noelle Monique posing mostly nude in front of an American flag. Along with the piece on the Mormon war on porn, it also has an article on polygamy: 'Sister Wives Make Sinning Hot', the cover proclaims.
You can share this story on social media: