F-35 declared 'ready for combat' after 15 years in making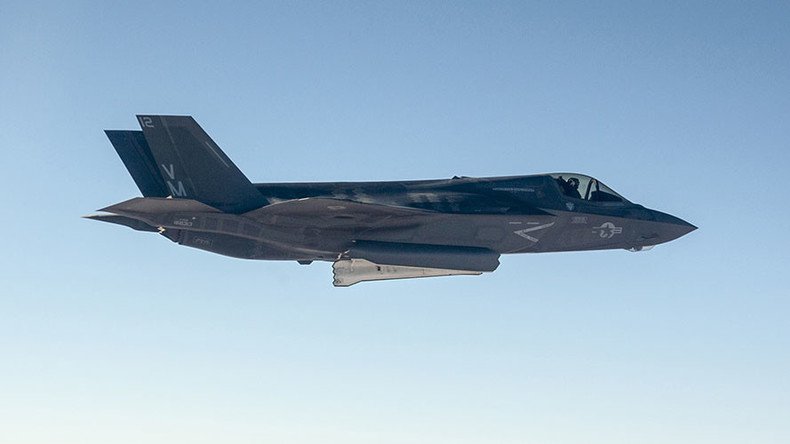 It's been long fifteen years and numerous glitches and repairs, but the first squadron of F-35As is ready for battle, the US Air Force declared.
Air Combat Command head, General Herbert "Hawk" Carlisle, declared the F-35A operationally capable on August 2, almost fifteen years after Lockheed Martin was awarded the contract for the Joint Strike Fighter, and a year after the Marine Corps declared operational its version of the jet, the F-35B.
The first operational F-35A formation will be the 34th Fighter Squadron, located at Utah's Hill Air Force Base. Its 12 combat-ready jets can now be sent to operations anywhere in the world, Defense News reported.
The fifth-generation stealth fighter jet can be deployed globally to provide "basic close-air support, air interdiction and limited suppression and destruction of enemy air defense missions,"according to Defense News.
Carlisle made the announcement despite the issues with the jet's software – to the point where pilots have had to reboot the radar in-flight – and the ongoing problems plaguing the maintenance program, known as Autonomic Logistics Information System (ALIS).
"The F-35 program's record of performance has been both a scandal and a tragedy with respect to cost, schedule, and performance," Arizona Republican John McCain, chairman of the Senate Armed Services Committee, said at a hearing about the F-35 in April, calling the program a "textbook example" of the need to reform the "broken" defense acquisition system.
Estimates have put the lifetime cost of the F-35 program at just under $1.5 trillion.
Burlington Air National Guard Base in Vermont is scheduled to host the next operational squadron of F-35As, with 18 jets intended to replace its contingent of F-16s, according to the Air Force. Two more F-35A squadrons of 24 jets will be sent to the Eielson Air Force Base in Fairbanks, Alaska by 2020.
F-35C, the variant intended for use by the Navy on aircraft carriers, should reach operational capability by February 2019, under the original schedule set by the Pentagon.
You can share this story on social media: