'Does he know what it's for?' Internet agog as Trump gets Purple Heart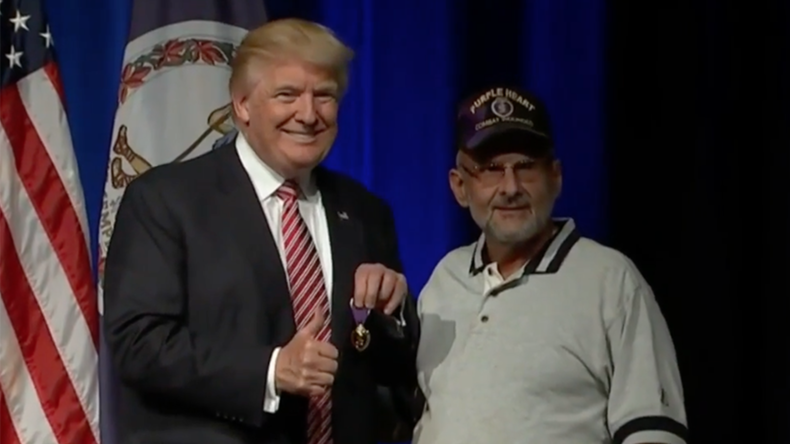 Republican presidential candidate Donald Trump has once again set the internet atwitter, this time by holding up a medal given to him by a supporter and joking that he "always wanted" the decoration for being wounded in combat.
"Something very nice just happened to me," Trump said at a rally in Ashburn, Virginia on Tuesday. "A man came up to me and handed me his Purple Heart. I said to him, 'Is that like the real one or is that a copy?' And he said, 'That's my real Purple Heart. I have such confidence in you'."
"I always wanted to get the Purple Heart. This was much easier," the candidate added.
Trump's many detractors were quick to wonder if the billionaire businessman even knew what the medal was for.
Others took aim at Trump's lack of military service, following the New York Times' revelations on Monday that the GOP candidate avoided draft during the Vietnam War due to five medical deferments.
Another Twitter commentator wished a more literal Purple Heart on Trump.
Yet another critic pointed out that owning that particular medal meant nothing, if one had not earned it.
The Purple Heart is a US military medal awarded for "being wounded or killed in any action against an enemy of the United States or as a result of an act of any such enemy or opposing armed forces." It was introduced in 1932, on the bicentennial of George Washington's birth, and designed to resemble a medal issued to the wounded soldiers in the American War of Independence.