Satanic Temple rolls out after-school program for kids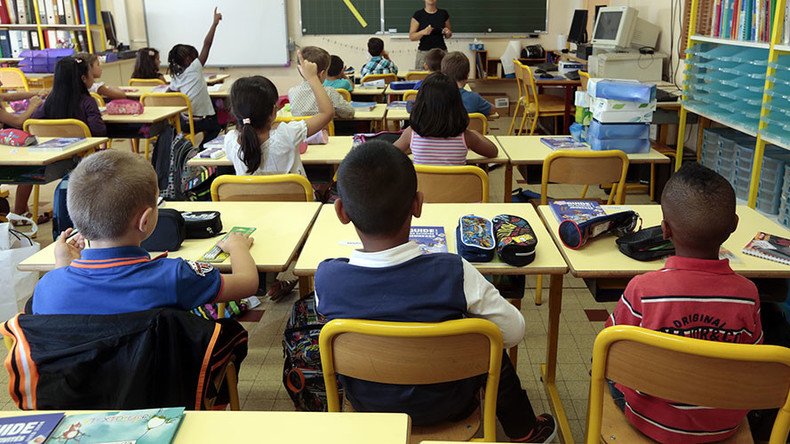 The Satanic Temple (TST) is planning to bring Lucifer to school by rolling out extra-curricular clubs across the US. 'After School Satan' is the Temple's response to a Supreme Court ruling allowing evangelical religious programs to operate in schools.
Currently, nine clubs are listed as participating in the program including Los Angeles, Salt Lake City and Washington DC. The clubs will focus on "rationalism, free inquiry... and fun," according to a promotional video.
The Temple is taking aim at the Good News Club, an interdenominational Christian program for five to 12-year-olds operating in over 3,500 public schools across the US. The club's curriculum was created by the Child Evangelism Fellowship (CEF) and includes Bible studies.
TST said it is "not interested in operating After School Satan Clubs in school districts that are not already hosting the Good News Club."
A spokesperson for TST, Lucien Greaves, said After School Satan clubs will bring diversity to the religious opinions children are exposed to in school. It will give them an option other than the Good News Club, which he claimed instills children "with a fear of Hell and God's wrath."
The Satanic Temple of Seattle plans to offer an "After School Satan" kids club at Centennial Elementary, Mt. Vernon: https://t.co/H7x2D6HWDt

— TST Seattle (@TSTSeattle) July 30, 2016
"We prefer to give children an appreciation of the natural wonders surrounding them, not a fear of everlasting other-worldly horrors," Greaves said. Reasoning, social skills and science are listed on the clubs' curriculum.
The CEF won a landmark case in 2001 when the Supreme Court ruled that a public school that allows the use of its facilities to secular groups could not discriminate. Schools that allow the Good News Club to operate are "not at liberty" to deny their facilities to TST, according to Greaves, including fliers, brochures and school-wide announcements.
Would support my child's decision to join @satanicpsalms's After School Satan Club. Hope its message is heard loud and clear.

— Jim Safley (@jimsafley) July 31, 2016
TST said it believes religion should be kept out of schools but that it must fight to "ensure that plurality and true religious liberty are respected."
Speaking to The Salt Lake Tribune, Mat Staver, from policy organization the Liberty Counsel, said TST's planned clubs are protected by the first amendment. Staver said he believes the clubs, which will require permission slips signed by the child's parent/guardian, will be poorly attended and fade away.
The Temple, which claims not to worship Satan but instead view him as a metaphor for rebellion and rational inquiry, applied to read the invocation of a city council meeting in Phoenix earlier this year.
READ MORE: Satanic Temple rejected by Phoenix gets OK from Scottsdale
You can share this story on social media: