San Francisco-size wildfire spreading in California, thousands of homes under threat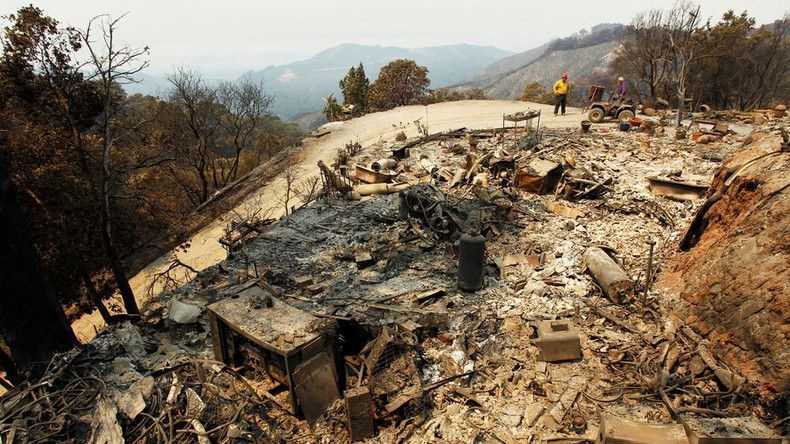 A large blaze near Big Sur on California's Central Coast spread even further on Sunday, destroying 57 homes and forcing the evacuation of another 300, as 5,000 firefighters struggled to slow down the wildfire.
The blaze is currently threatening thousands of homes. Overnight it grew to an area of 59 square miles (153 square kilometers), about the size of San Francisco, according to the California department of forestry and fire protection. Authorities have ordered 300 more homes to be evacuated.
Firefighters were able to contain only 15 percent of the blaze by Sunday morning. Overnight, it destroyed 57 homes and eleven outbuildings. Officials warned that it could be another month before the blaze is completely extinguished.
The fire killed a bulldozer operator, who was right on the fire line. The blaze is currently threatening the destruction of another 2,000 homes.
"Firefighters are meeting challenges due to topography, fuel load, and dry humidity," Katherine Garver, a spokeswoman for the California Department of Forestry and Fire Protection (Cal Fire), said. "The fire is making runs into inaccessible areas."
Meanwhile, another blaze broke out in Fresno County in central California. That wildfire was only 5 percent contained by Sunday morning. California Fire spokesman Daniel Berlant warned that the blaze is burning through many dead trees.
A third blaze near suburban Santa Clarita on the outskirts of Los Angeles, which killed one man and burned down 18 homes, had been 93 percent contained by Sunday.
You can share this story on social media: