'Is this for real?': Kentucky judge furious after jail sends woman to court without pants (VIDEO)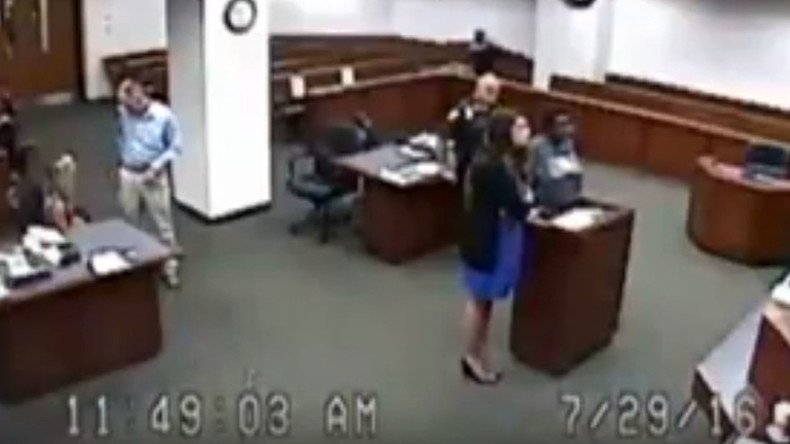 A judge in Louisville, Kentucky was left fuming when the local jail presented a female inmate to the court without pants. Her jailors had also "refused to give any kind of hygiene products."
The woman, who hasn't been named, was brought to Jefferson District Court on Friday after being held for three days wearing only a long t-shirt that covered her athletic shorts, making it look as if she had nothing on underneath.
The woman's attorney informed Judge Amber Wolf that her client had requested a jail jumpsuit, but the jail had "refused to give her pants and any kind of hygiene products that she needed."
"Excuse me?" Judge Wolf can be heard saying in a video recording of the court proceedings. "This is outrageous. Is this for real?"
The case was then halted as the judge took out her cell phone to ring Metro Corrections Director Mark Bolton. The judge is heard asking someone on the phone "why there is a female defendant standing in front of me with no pants on."
"What the hell is going on?" Wolf says into the phone. "I'm holding her here until she is dressed appropriately to go back to jail. This is outrageous."
The judge asks court staff to find clothing for the woman so that she wouldn't be reduced to standing semi-naked in the courtroom
"Am I in the twilight zone? What is happening?" the judge can be heard asking at another point.
The woman in question was in court for failing to complete a diversion program that she had been ordered to undergo as a result of a 2014 shoplifting charge, according to WDRB.
A spokesman for the jail told the outlet's site that the woman had not been in custody long enough to be given a jail jumpsuit and that it was "pretty standard" for people to "remain in the clothing that they've been arrested in… especially for the first 72 hours."
However, Metro Corrections Deputy Director Dwayne Clark said that, as the woman was "dressed like she was… she should have been changed into a jumpsuit." He also promised to "look into why she wasn't."
Judge Wolf apologized to the woman for the way she was treated, telling her that "this is not normal."
"I've never seen it happen," Wolf told the court. "This is completely inhumane and unacceptable. I'm sorry you had to go through this."
The woman told the judge that there were several other women in the jail who hadn't received uniforms either and were sitting in similar clothes.
The woman said she didn't know "if they were picking or choosing" who to give jumpsuits to "or what the criteria is."
Although initially being sentenced to 75 days behind bars, Judge Wolf handed down a $100 fine and ordered that the woman be released.
You can share this story on social media: