New Mexico police chase ends with serious 3-car crash (VIDEO)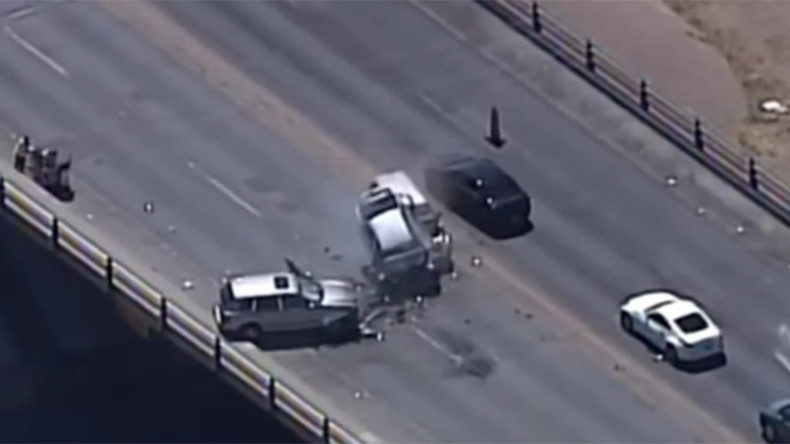 A car thief has been arrested after driving a stolen car head on into another vehicle during a high-speed car chase in the US state of New Mexico that left one man seriously injured, who will now have to learn to walk again.
Corderro Jefferson is facing charges of auto burglary and aggravated eluding after robbing a car from outside a sports store in Albuquerque but police weren't far behind after Jefferson was caught in the act by a fellow passer-by.
A police helicopter tracked Jefferson's attempts to evade the authorities and even after driving over a police spike belt, the 29-year-old continued to flee, according to KOAT.
Footage of the getaway, which occurred on July 21, shows the dramatic moments that followed, with Jefferson ploughing the SUV into oncoming traffic causing a three-car pileup.
He can then be seen running from the bashed up vehicle, jumping the road barrier and fleeing from the scene on foot.
Still under the watchful eye of the police chopper above, Jefferson, who already had a felony warrant for his arrest for aggravated assault, was caught shortly afterwards.
Jefferson is lucky not to be facing more serious charges after the occupant of the car he crashed into was hospitalised due to the injuries sustained.
James Moreno, a veteran who served in the Marine Corps, was left with a broken foot, a shattered pelvis, a dislocated femur, eight broken ribs and a bruised lung.
Moreno knows it could have been worse too. "I feel very fortunate," Moreno said. "I feel like I could be dead right now."
Moreno will now have to undergo hip surgery before attending rehab where he will have to learn how to walk again.