1 officer shot dead, another injured during San Diego traffic stop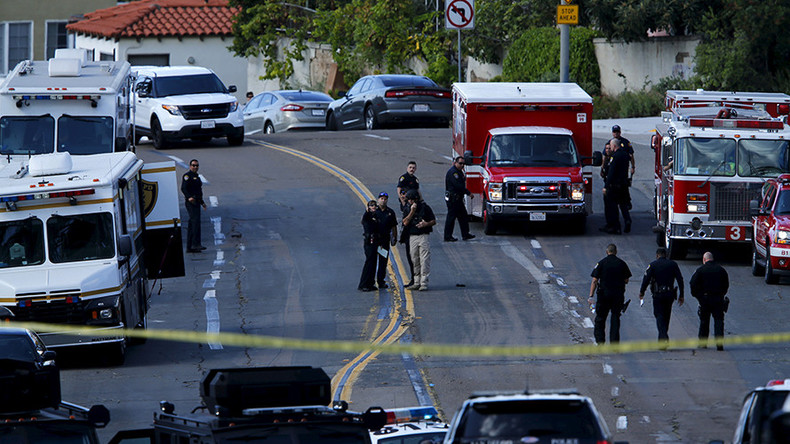 One police officer has been killed and another injured in a shooting in San Diego, with a suspect now in custody, police reported. The second officer was in surgery, while police have warned other suspects could still be at large.
The officers worked for the gang suppression unit and were shot during a traffic stop at around 11pm local time on Thursday in Southcrest, in the southeast of the city, according to the San Diego Union Tribune.
The names of the officers were not released.
A suspect has been shot and is receiving treatment, Chief Shelly Zimmerman said early Friday. Others could still be at large, police say.
Area residents have been told to stay indoors for their own safety.
Read more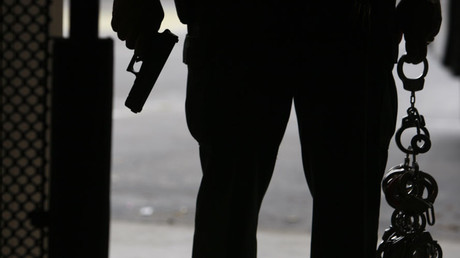 The incident occurred as the two officers pulled over a vehicle around Acacia Grove Way and 36th Street. Calls for emergency backup were made soon afterwards, it is understood. Nearby officers answered the call, but arrived to find two officers with bullet wounds to the upper torso.
One of the officers died, despite being rushed to the hospital. "Despite heroic efforts by officers on scene and heroic efforts by doctors to save his life, I'm heartbroken to report they were unable to save him and he is deceased," said Zimmerman, who personally notified the family by going to their home.
"It is extremely difficult, but something you have to do," she told reporters.
The incident comes as police in Southern California remain on high alert after the Dallas and Baton Rouge incidents, which both lead to police deaths earlier this month, and amid orders for greater vigilance.
At a Friday morning press conference, SDPD Chief Shelley Zimmerman said the officers were called for emergency backup shortly after their car stopped. By the time that additional law enforcement at the area, they found both officers on the ground suffering from gunshot wounds.
"One of our officers was murdered last night while he was protecting our community: Officer Jonathan – who goes by 'JD' – Guzman. JD is a 16-year veteran. More importantly, he is a loving husband and father of two young kids who are now grieving the loss of their dad," Zimmerman said.
Zimmerman said that the officer injured from the attack, Officer Wade Irwin, is in serious condition, but is expected to recover.
The suspected attacker is a Hispanic male with a gunshot wound to his torso, the police chief said. He is currently in critical condition, and his name was not released.