Officer-involved shooting, suspect barricaded in Tempe senior center ‒ police
Published time: 27 Jul, 2016 17:03
Edited time: 19 Dec, 2016 21:26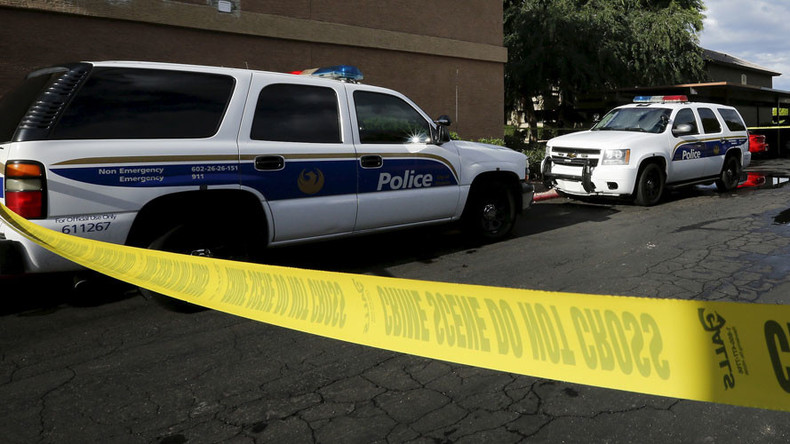 There has been an officer-involved shooting following an armed robbery at a pharmacy in Tempe, Arizona. The suspect barricaded himself in a local senior center after scuffling with police, and later died from a gunshot wound.
The police officer is okay, the department said.
No residents have been hurt. Roads in the area have been shut down.
Police appeared to have been responding to an armed robbery at a nearby Walgreens, according to KSAZ. The suspect was shot there.
A SWAT team has arrived on the scene.
Firefighters are also at the location to assist with elderly residents who have been evacuated from the senior center and into the heat, KSAZ reported. The current temperature is 102 degrees F, and feels like 106 degrees.
Police have entered the storage area of the senior center where the suspect is holed up. They have brought a stretcher or backboard into the building. Officers are not wearing tactical gear.
Law enforcement have made contact with the suspect, and are preparing to transport him to the hospital, Tempe Police tweeted.
The suspect was described black male wearing gray sweatpants, and had a "simulated weapon," the Tempe PD's public information officer said at a press conference.
Police pursued the suspect, engaged in a scuffle and an officer fired a weapon. The officer is okay and was transported with minor injuries.
There are three different scenes: the Walgreens, where the shooting happened down the street and the senior center.
The suspect was shot at least once, and succumbed to his injuries at the hospital.
Nearby schools were placed on lockdown as a precaution.
The suspect appears to have been after pharmaceutical drugs, police said.