46 arrested at #PhilandoCastile protest against police killings in Minnesota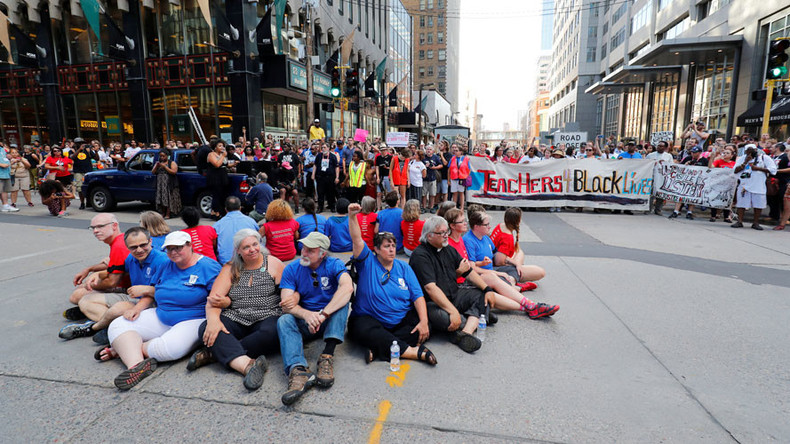 At least 46 activists protesting against police brutality outside the residence of the Minnesota governor have been arrested over charges varying from unlawful assembly to public nuisance and disorderly conduct.
Demonstrators have been camping in front of the governor's mansion on St. Paul's Summit Avenue since July 7 to protest the death of African-American man Philando Castile, 32, who was shot dead by a police officer during a traffic stop.
Police raided the demonstration while Governor Mark Dayton was away attending the Democratic National Convention (DNC) in Philadelphia. Dayton's spokesman said the governor was not involved in the decision to clear the protesters from the street.
The demonstrators were arrested in two stages on Tuesday. A total of 27 protesters were first detained – among them one minor – and 19 others were arrested later in the day.
The first arrests were made after protesters blocked Summit Avenue and police had to make several attempts to reopen it.
The president of the Minneapolis National Association for the Advancement of Colored People (NAACP), Nekima Levy-Pounds, accused police of a "show of military force against unarmed peaceful protesters," AP reported.
Minnesota police had previously cleared protesters from the street in front of the governor's mansion on July 18, but activists returned on Sunday.
Castile, who hailed from Falcon Heights, Minnesota, succumbed to his wounds at Hennepin County Medical Center on July 6, where he was taken after being shot by a traffic police officer. Castile was driving with his girlfriend, Diamond Reynolds, when they were pulled over for a broken tail light.
The officer, who stood by the driver's window with his gun ready, panicked and shot Castile in the chest several times. Reynolds' four-year-old daughter was in the backseat of the car.
Meanwhile, a new study has revealed that more than 55,000 Americans were either killed or injured by US police in 2012. Most of the deaths were from fatal firearm wounds or excessive use of taser devices.