Democrats trying to 'deflect horror & stupidity of WikiLeaks disaster' – Trump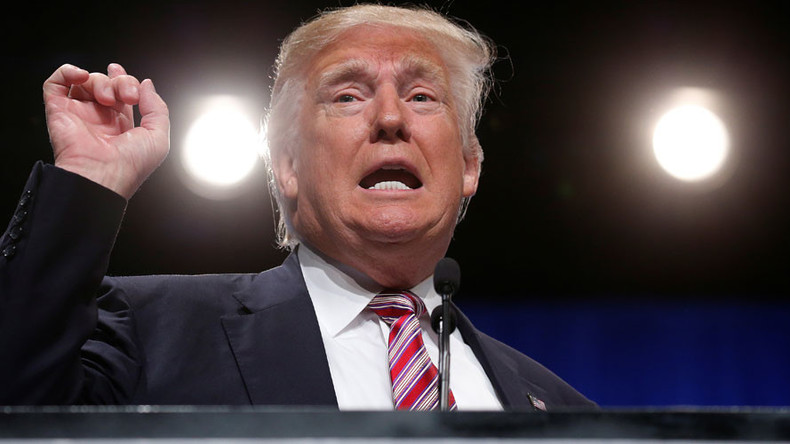 Republican presidential nominee Donald Trump has refuted claims that he has any financial ties to Russia. Hillary Clinton's campaign manager earlier made waves by alleging that Russians "stole and released" the leaked DNC emails to help elect Trump.
Trump said the Democrats implicated Russia only to deflect attention away from "the WikiLeaks disaster."
Nearly 20,000 emails and over 8,000 attachments from the Democratic National Committee (DNC) were released by WikiLeaks on Friday. The internal correspondence showed hostility towards the Bernie Sanders campaign, including anti-Sanders bias and pro-Clinton collusion among top DNC committee officials.
The embarrassing revelation prompted Clinton's campaign manager, Robby Mook, to voice a theory on who was actually behind the leaks and hacks.
"Experts are telling us that Russian state actors broke into the DNC, stole these emails, and other experts are now saying that the Russians are releasing these emails for the purpose of actually helping Donald Trump," he told CNN's 'State Of The Union' on Sunday. "I don't think it's coincidental that these emails were released on the eve of our [Democratic National] Convention here. And that's disturbing."
"They [the emails] are being released at this time to create maximum damage to Hillary Clinton to help Donald Trump," Mook added.
Meanwhile, US President Barack Obama has noted that Russian President Vladimir Putin may prefer Trump to Clinton because Trump has "repeatedly expressed admiration" for Putin.
"Donald Trump has repeatedly expressed admiration for Vladimir Putin," the US president told NBC News on Tuesday. "And I think that Trump's gotten pretty favorable coverage back in Russia."
"Anything's possible," Obama noted when asked whether Russia was trying to influence the US presidential election.
READ MORE: Kremlin: Idea of Russia's involvement in US Democratic Party mail hack is 'absurd'
Although the FBI investigation into the origin of the hack is still active, Obama said "experts have attributed this to the Russians."
"What we do know is is that the Russians hack our systems, not just government systems but private systems...what the motives were in terms of the leaks, all that - I can't say directly," Obama said.
When the leak scandal first emerged, Trump said that allegations that Russia would help his presidential campaign by leaking the emails made him laugh out loud.
You can share this story on social media: