Texan cemetery can no longer enact 'whites-only' policy after lawsuit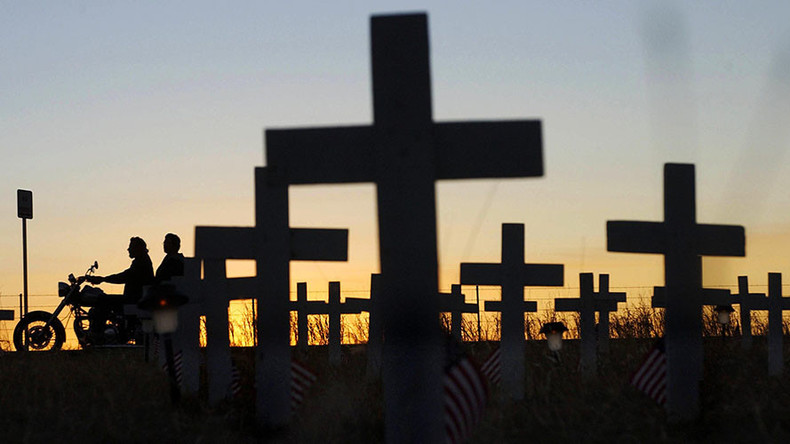 A grieving widow was told to "go up the road and bury him with the n****** and Mexicans," when she asked to bury her husband of 40 years in a local cemetery.
Dorothy Barrera, a white woman, was denied the right to bury the ashes of her husband, a Latino man named Pedro, in San Domingo Cemetery in Normanna, Texas, due to a "whites-only" policy.
READ MORE: New history books in Texas downplay slavery's role in Civil War, omit KKK and Jim Crow laws
Cemetery operator Jimmy Bradford told Barrea to "go up the road and bury him with the n****** and Mexicans" when she questioned why her burial request was denied by "the board," according to court documents.
The federal lawsuit was brought by the Mexican American Legal Defense and Educational Fund (MALDEF) against the Normanna Cemetery Association following the February incident.
On Friday, the cemetery admitted defeat.
In a Corpus Christi court, MALDEF accepted the cemetery association's "offer of judgement," which proposed that a judge enter a ruling against them for the discriminatory policy and declare the rule "void."
The cemetery association has since granted Barrera's request to bury her spouse on the grounds. However, as of May, Dorothy had still not laid her husband's ashes to rest, according to Mint Press News.
READ MORE: Texas governor calls for states to amend Constitution, offers 9 amendments
"Separation after death is one of the cruelest and most wholly inexplicable of all historical policies of racial exclusion," stated Thomas A. Saenz, MALDEF President and General Counsel.
"MALDEF is pleased to have placed one more of these anachronistic policies in the realm of antiquity, where they belong," he added.
Segregated cemeteries, which were common in Southern states due to Jim Crow laws that segregated blacks and whites, were made illegal by the US Supreme Court in 1948.