'The art of the deal': Freedom Kids creator to sue Trump campaign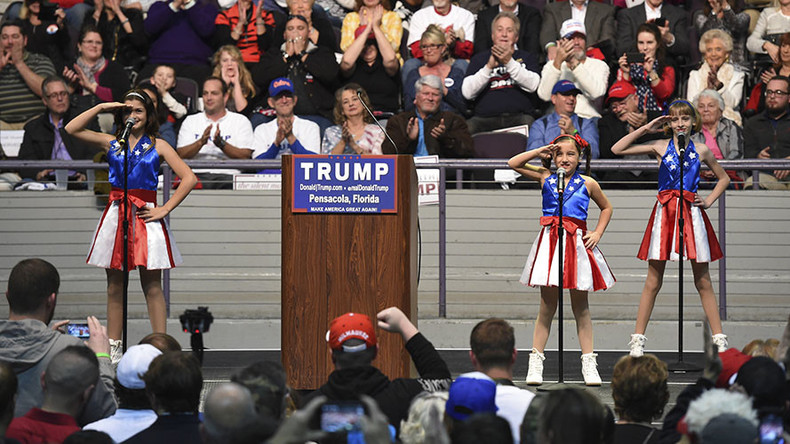 The creator of the dance troop, USA Freedom Kids, whose performance at a Donald Trump rally became an internet sensation, is now suing the campaign.
Jeff Popick, creator of the musical act and father of the smallest Freedom Kid, told the Washington Post he plans to file a lawsuit against the Trump campaign for "violating its agreement with the group."
Popick had a verbal agreement to appear at a Trump rally in Pensacola, Florida in January. He originally proposed the show opener be slated for two rallies, but when one never materialized, Popick requested $2,500 for the performance in Pensacola. The campaign counter-offered, suggesting a table for the group to pre-sell their albums, to which Popick agreed.
When they arrived to perform, however, there was no table. Popick described the scene as "complete chaos," adding "they clearly had made no provisions for that."
That did not prevent a video of the group's performance – in which three girls decked out in red, white, and blue outfits lip-synced a version of "Over There" while incorporating Trump's campaign themes – from becoming a viral sensation.
Despite calls to the campaign afterwards, Popick received no response. He argued that the lack of a table resulted in the loss of several promotional opportunities and wasted costs on promotional materials.
Later in January, Popick and his young troupe were given a day's notice by the campaign to travel from Florida to perform at a Trump rally for veterans in Des Moines, Iowa, after Trump refused to appear on a Fox News debate.
They were promised exposure from a "huge" event, so they flew to Chicago and planned to drive to Iowa. However, when they landed in Chicago, campaign staffers told them that there had been a change of plans. They were invited to attend the rally in their outfits, but Popick was told to not speak to the press.
"They were constantly coming over, wanting pictures," Popick said of the news media. "They wanted to take pictures, they wanted to ask questions – and I had to be a real jerk."
Popick said he absorbed the costs of the flights, rental car, and hotel. Since then, he has reached out "again and again and again" to the campaign without response.
Popick said he has consulted with an attorney, who thinks he has a case.
"We are owed compensation or, as the agreement is, a performance. That's what the agreement was," he told the Post. "In lieu of compensation, in lieu of monetary compensation, that we would have this performance. It was largely a verbal contract, but a contract nonetheless and on two different occasions."
He elaborated that it "is not a billion-dollar lawsuit," but says Trump campaign has to "do the right thing."
"And if this means having to go through the court system to enforce them doing the right thing, then that's what I have to do. I'm not looking to do battle with the Trump campaign, but I have to show my girls that this is the right thing," added Popick.
Popick launched the dance group over two years ago. He claims that he was a Trump fan even before he was a candidate, as he admired what Trump had accomplished. Popick also says he has read Trump's books.
"What he's done to my group or what he's not done for my group doesn't necessarily make him the best candidate; it doesn't make him the worst candidate. I still have to mull that over. He might still be the best candidate as president of the United States – or not," he said.
Popick said he had also requested a chance for the kids to perform at the Republican National Convention, though that request did not come to fruition either.