Activists demonstrate against 'warmongering' Hillary Clinton at DNC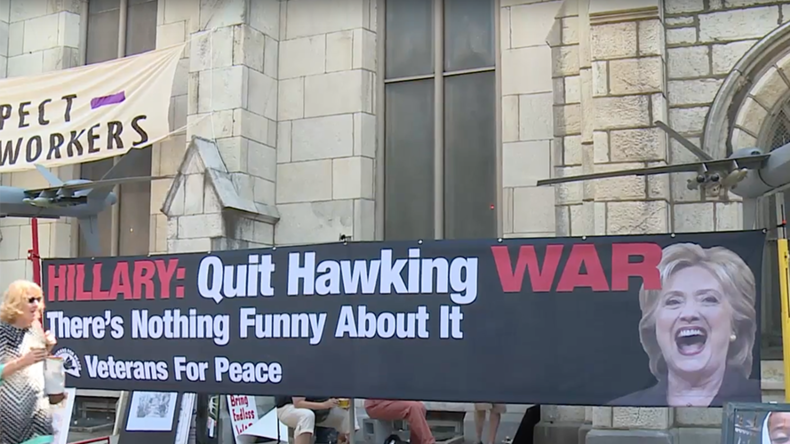 Though she's almost certain to be her party's nominee, Clinton hasn't received a warm welcome at the Democratic Convention, with protesters in the streets of Philadelphia criticizing her role in US foreign policy and hawkish policy positions.
Since the convention began on Monday, former Clinton rival Bernie Sanders has been urging Hillary Clinton's left-wing critics to unify behind the candidate, if only to beat Donald Trump, whom he deems a greater evil.
However, this plea hasn't swayed protesters outside of the Wells Fargo Center where the DNC is being held from criticizing the former secretary of state.
"Neither candidate – neither Trump nor Clinton – will stop these wars. It's up to us," one demonstrator, who was standing in front of a depiction of civilians killed in drone strikes, told RT America as she handed out flyers titled "No more endless war."
"We know what Clinton represents. We know the crimes that her party has committed, we know the crimes that she herself has committed and advocated for, that she promises us only more of," she continued.
An "Anti-War Truth Displays" exhibit surrounded by activists featured scale models of drones, maps of US military bases around the world, and pictures of children bloodied in the aftermath of US strikes.
"Absent a mass resistance movement to stop these wars, to stop the US policy of drone strikes and killing civilians with impunity, none of this is going to end," the activist said. "We're advocating the people be in the streets resisting the crimes of this government."
Led by an activist with a megaphone, other protesters associated with the group St. Pete for Peace could be heard chanting, "A vote for Hillary is a vote for war!"
They stood before a banner saying: "Hey Hillary: First rule of 'all lives matter' is don't bomb people. So shut up."
Protesters were present in large numbers as early as Sunday, when multiple vehicles, including a full-size motor home, could be seen painted entirely with pro-Bernie Sanders slogans.
You can share this story on social media: