'We want Bernie!' Sanders delegates boo when told to vote for Clinton & Kaine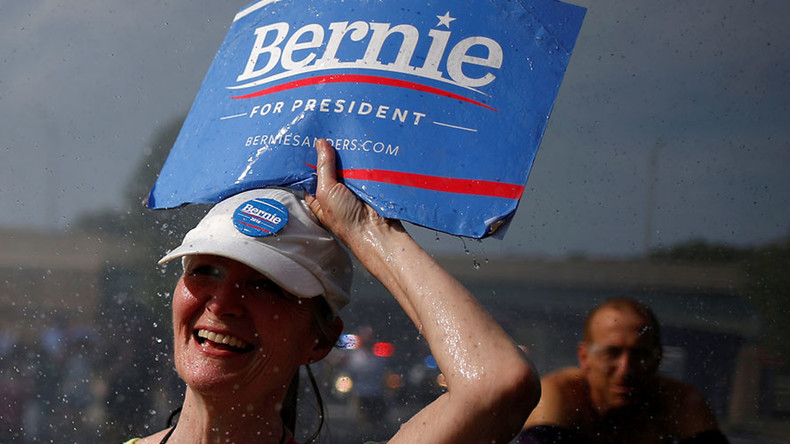 Speaking in Philadelphia, Senator Bernie Sanders said "We have got to defeat Donald Trump and we have got to elect Hillary Clinton and Tim Kaine," but was interrupted as his delegates answered with "No!" followed by angry boos and chants of "We want Bernie!"
"This is the real world." Senator Sanders (D, Vermont) told a packed room of delegates on Monday ahead of his speech at the Democratic National Convention. He said that electing Clinton was the only way to stop Republican Donald Trump.
"Trump is a bully and a demagogue. Trump has made bigotry and hatred the cornerstone of his campaign," Sanders stated. "Throughout his campaign, he has insulted Mexicans and Latinos. He has insulted Muslims, women, and African-Americans."
Sanders said Trump is a danger to the future of America and "must be defeated," stressing that he intended to do everything he could to see that he is defeated.
Earlier in the speech, Sanders said "Our ideas are not some crazy, wild Utopian fantasies, they are ideas supported by working people," said Sanders.
Sanders said, while he didn't win over many super delegates, he did win 46 percent of the pledged delegates, telling the crowd that the voters had shown the way to changing politics.
"That you can run a competitive, national campaign without begging billionaires for campaign contributions," said Sanders. "We are the only campaign not to have a Super PAC. In an unprecedented way we received 8 million campaign contributions averaging…" Sanders paused as the crowd responded, "$27."
He said the rules committee has cut the number of super delegates down from 750 to 250, a 60 percent reduction.
"There will also be a commission to work to end closed primaries and bring about other needed reforms. And I think all of you, as you know, Debbie Wasserman Schultz resigned yesterday," Sanders said as the room erupted in loud cheers.
"The end of her reign opens up the possibility of a new leaders at the top of the Democratic National Committee that stand for working people and opens the door for those people who want real change," said Sanders.
Sanders said there are now five chairs on the Democratic Party who were elected as part of the political revolution.
"This is just some of what we have accomplished," said Sanders. "The question is where do we go from here? How do we build from here? How do we continue the political revolution?"
Sanders said this means fighting for change at all levels of government, from the school board up to the Senate.
"We have to be strong and consistent in making it clear that we want nothing less than the transformation of American society," Sanders added.