'Atomic blast from Mother Nature': Chopper cameraman captures incredible storm burst (PHOTOS, VIDEO)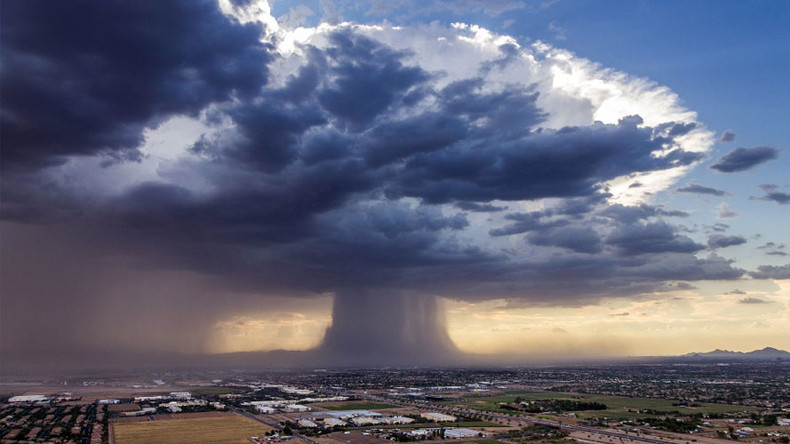 A cameraman for a local television station in Phoenix, Arizona, couldn't believe his eyes when he saw a huge mushroom-cloud shape in the skies while shooting footage from his news helicopter.
Being in the right place at the right time, Jerry Ferguson managed to capture the moment perfectly.
"Arizona may not get much rain, but when we do, it is dramatic," he said in a Facebook post. "Here's an aerial photo of a strong microburst that dumped rain and high winds in south Phoenix."
The gigantic mushroom cloud was a 'microburst', a weather phenomenon which occurs when sinking air - or a downdraft - in a thunderstorm is created by a combination of falling rain, hail and evaporation. Once the water evaporates, it cools down the air, making it dense and powerful.
Microbursts can be dangerous because they spread wind out in all directions after hitting the ground. Small and powerful bursts of wind typically rush downwards out of a thunderstorm and gusts can reach up to 150mph (240kph).
Ferguson called the microburst he witnessed over Phoenix an "atomic blast from Mother Nature."
Another Phoenix resident also managed to get an impressive photo from the ground.
But, of course nothing beats Ferguson's views from the sky, including a dust storm in the days after.
A separate video by photographer Bryan Snider also showed a spectacular timelapse of the microburst over the Phoenix Sky Harbor airport.