LGBTQ viewers baffled, angered by Trump offer of protection from 'foreign ideology'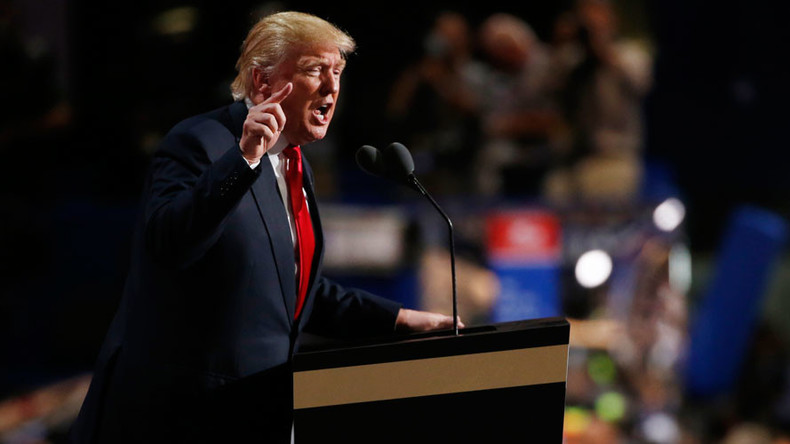 The promise by presidential candidate Donald Trump to protect the LGBTQ community in his RNC speech left many unimpressed, primarily due to his party's most anti-LGBT platform yet, and vice presidential pick Mike Pence's record on LGBTQ issues.
"Only weeks ago, in Orlando, Florida, 49 wonderful Americans were savagely murdered by an Islamic terrorist. This time, the terrorist targeted our LGBTQ community," Trump said.
"As your president, I will do everything in my power to protect our LGBTQ citizens from the violence and oppression of a hateful foreign ideology," he added.
People were quick to question the sincerity of Trump's words, suggesting it was an attempt to win votes rather than a display of genuine concern.
Others poked fun at the businessman's apparent inexperience in pronouncing the word "LGBT".
Trump congratulated the crowd for cheering his comments: "As a Republican, I'm so happy to hear you cheering for what I just said."
Some suggested that convention attendees were cheering the Republican candidate's promise to protect the community from a "foreign ideology" rather than from the homophobic elements in the US, and within the party itself.
Pence has pushed for defunding HIV prevention programs in favor of gay conversion therapy, and signed a religious freedom law that allows businesses, based on its workers' religious beliefs, to refuse to serve certain individuals.
Some were quick to point to Trump's rival Democratic presidential candidate Hillary Clinton's own LGBTQ shortcomings.
Also on Thursday, Paypal founder and Silicon Valley billionaire Peter Thiel gave a speech in which he dismissed the Republican debate surrounding transgender use of bathrooms as "a distraction."
In an RNC first, Thiel referred to his sexuality by saying he is "proud to be gay".
"I am proud to be gay. I am proud to be a Republican. But most of all I am proud to be an American," Thiel said to applause from the room.
You can share this story on social media: