Champion of women? Ivanka attempts liberal sales pitch of Trump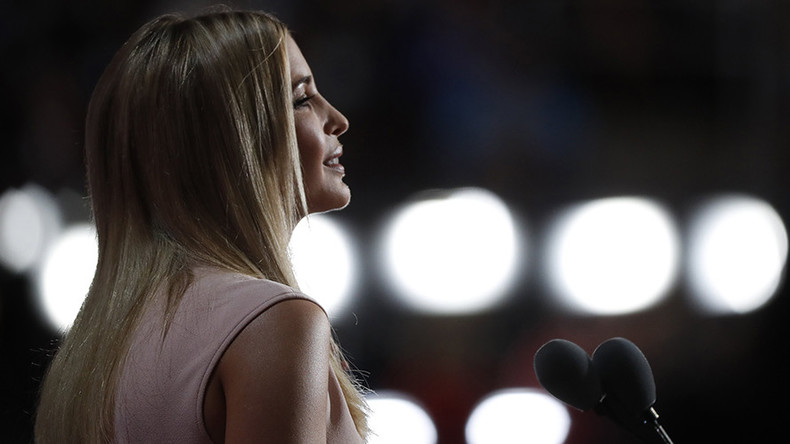 Ivanka Trump presented a softer side of her father and his campaign at the RNC, but some feel it was sugarcoating less progressive policies. Her speech about working mothers left some feeling that she would have been at home at the other camp.
Ivanka Trump introduced herself as a millennial to the audience at the RNC, saying "I don't consider myself categorically Republican or Democrat." The 34-year-old is technically a member of Generation X, but regardless, her speech was well received by Twitter users who praised the very progressive stance she presented her father's Republican platform.
Ivanka Trump's glowing speech presented her father as a champion of women who seeks to make childcare free for working mothers. In her speech, she called Trump "colorblind and gender neutral." This was greeted with tepid applause from the audience in stark contrast to her father's speech that vilified illegal immigrants and was met with roaring applause and chants of, "Build a wall!"
She praised her father's track record of hiring women, saying "At my father's company, there are more female than male executives," despite a 1997 lawsuit claiming that he sexually harassed a female employee who was contacted by his campaign to retract her statements in May.
Allegations of Donald Trump's character aside, Ivanka pledged to join her father in the fight to close the wage gap. She told the audience, "He will fight for equal pay, for equal work and I will fight for this, too, right alongside of him."
Ivanka also addressed the gender wage gap, a topic that Hillary Clinton has been championing in her campaign. "As researchers have noted," she said, "gender is no longer the factor creating the greatest wage discrepancy in this country, motherhood is."
She brought this to Trump's campaign, saying "As president, my father will change the labor laws that were put into place at a time when women were not a significant portion of the workforce. And he will focus on making quality childcare affordable and accessible for all."
Michael Cohen, Trump's general counsel and an executive vice president at Trump Organization, told CNN in August 2015 and explained that while Trump's company employed 57 percent men and 43 percent women, but the majority of executives were women.
Journalist Chris Cuomo found that these claims were not only true, but that women in executive positions received higher wages than their male counterparts.
Like her siblings' speeches, she painted a picture of a softer Trump saying, "Throughout my entire life, I have witnessed his empathy and generosity towards other, especially those who are suffering. It is just his way of being in your corner when you're down."