Mayor's plan would move teenagers out of New York's Rikers jail
Published time: 21 Jul, 2016 22:03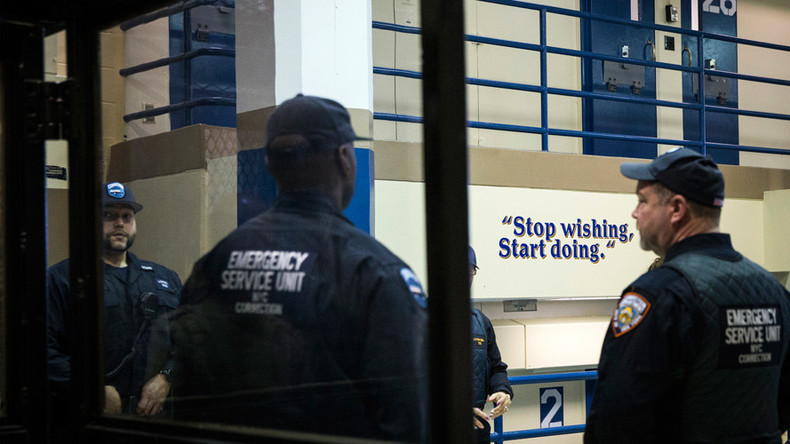 Teenagers will no longer be kept in New York's notorious Rikers prison and will be transferred to a dedicated jail for teenagers in the Bronx. The plan would take four years to complete but inmate advocates see it as a "necessary first step."
"When you are a teenager in trouble with the law, it's not too late to get on the right path – and we need to provide the right environment to help that happen," New York City Mayor Bill de Blasio said in a statement on Thursday, reported the New York Daily News.
Under the plan, teen inmates will be housed in a dedicated facility in the Bronx with age-appropriate programming near public transportation. The plan would renovate a complex currently use by the Administration of Children Services, who will then be moved to another building in Brooklyn. The plan would take four years to complete requiring public hearings, approval through a land use committee, support from various city agencies and the backing of the City Council.
A 2015 settlement with the Department of Justice on reform at Rikers said that the city should seek an alternative location to house inmates under 18. It was a recommendation, but not a requirement.
New York, like North Carolina, is the only state that prosecutes all children 16 and older as adults if they are accused of a crime. A "Rise the Age" campaign has repeatedly stalled among state lawmakers.
The New York Times said there about 200 inmates aged 16 or 17 currently held at Rikers, and according to city data, 95 percent of them are awaiting trial. A third have been charged with robbery and about one in 10 with assault.
Inmate advocates have lobbied for years to transfer teenagers away from older detainees at Rikers and other city facilities who argued that they are more likely to suffer from sexual, mental and physical abuse. They are 36 times more likely to commit suicide than those held in juvenile facilities, and have a higher rate of re-arrest and recidivism, according to the Correctional Association of New York, a nonprofit that advocates for a more humane criminal justice system and equitable society.
When asked about the Mayor's plan, Glenn Martin, president of JustLeadershipUSA, a group that advocates the closure of Rikers, told the New York Daily News "as someone who spent time on Rikers as a 16 year old, I firmly believe that the practice of incarcerating hundreds of children on an isolated island, with poor accessibility, and far from public view, is a failed model."
Martin called the plan a "necessary first step in reevaluating the proper treatment of youth involved in the criminal justice system."
Rikers has repeatedly hit news headlines for outbreaks in violence, corruption and inmate deaths.
The New Yorker published a harrowing article about Kalief Browder, who was sent to Rikers at 16 accused of stealing a backpack where he stayed for three years never standing trial or found guilty, with nearly two spent in solitary confinement. Browder said he was repeatedly beaten by guards and other inmates and tried to kill himself several times. After his release he was deeply troubled by the experience and committed suicide at 22 last year.
The city has allocated $170 million in 2016 in its 2016 Department of Correction budget for the plan and another $129 million for renovations.