Republican convention in Cleveland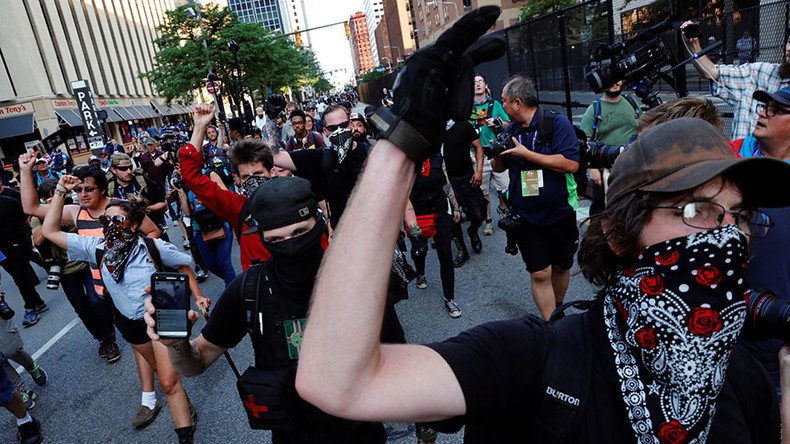 The Republican convention, which makes Donald Trump the GOP candidate for the presidential election, is underway in Cleveland, OH. Thousands of protesters are expected to rally outside, disgruntled with the party agenda and the candidate.
02:47 GMT

Trump says that Bernie Sanders, "never had a chance," but his supporters will join him over trade issues.

Two Bernie Sanders mentions in the speech got little more than weird groans from the crowd. #RNCinCLE

— Joy Reid (@JoyAnnReid) July 22, 2016

02:44 GMT

Reports of protesters being manhandled in the convention arena are beginning to come in.

02:41 GMT

"I am your voice" - Trump

"How great are our police?" Trump asks, "and how great is Cleveland!"

02:34 GMT

Trump waves off chants of "lock her up" from delegates here on the floor. "Let's defeat her in November," he says. #RNCinCLE

— Hallie Jackson (@HallieJackson) July 22, 2016

02:25 GMT

Trump went on to claim that "tens of thousands," of illegal immigrant families are being released into communities. He goes on to talk about Sara Root, a woman killed by an illegal immigrant in a drunk driving accident.

He refers to Rute as, "one more child to offer on the alter of open borders."

02:22 GMT

He refers to the, "attacks on the police" as a threat to the nation along with foreign terror. He goes on to say, "we cannot afford to be so politically correct anymore."

02:19 GMT

Donald Trump has officially accepted the nomination. He joined in the "USA!" chants.