'He's a loser': Over 100 women pose naked against Donald Trump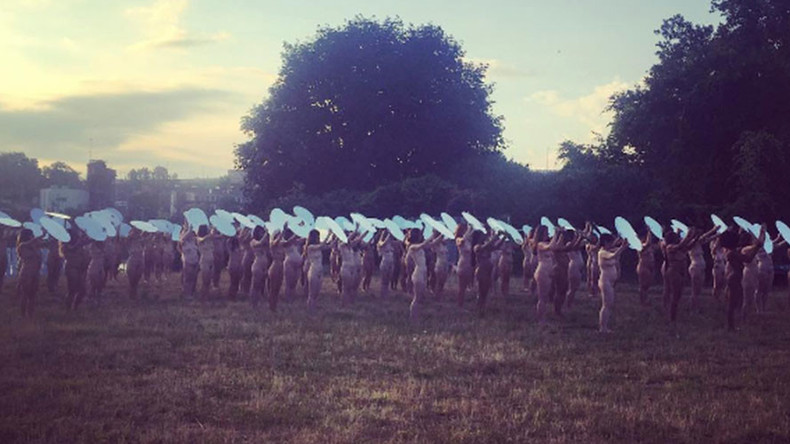 Some 130 women went naked and posed with mirrors in Cleveland in an art installation called "Everything She Says Means Everything," which aims to show that Donald Trump is unfit for the presidency.
The women were photographed on the eve of the Republican National Convention, where Trump is set to be anointed as the party's candidate after his victory in the primaries.
"He is a loser," photographer Spencer Tunick, who organized the shoot and took the picture, told AFP.
"I have two daughters and a wife. I can't believe the language and rhetoric of hate against women and minorities coming from the Republican Party," he added.
The photographer also said that he had to take a stand against "this idiotic thinking."
The actual photo, displaying 130 women of all races, ages (18 to 74), and shapes holding mirrors towards the viewers, is set to be revealed closer to the November 8 elections.
The project's primary aim is to project "the knowledge and wisdom of progressive women and the concept of 'Mother Nature'... onto the convention center, cityscape and horizon of Cleveland."
It is forbidden to go naked in public in Cleveland, but the owner of the private property where the shoot took place permitted the event, so police couldn't intervene.
Among the women participating in the photo-shoot, was 55-year-old art professor and artist MaPo Kinnord. She said she took part, as she really liked Tunick's work, while describing the campaign as a way to speak out against the anti-Muslim and anti-immigrant rhetoric of the Republicans.
"To be totally naked and out in the open and to be fearless is what we need to be," Kinnord added, saying she would "never" vote for Trump.
Eighteen-year-old Morning Robinson participated "to do something a little different" before going to college, and not to be afraid of her body.
"Republicans have this view of how women should be in society and I just don't agree. I don't know exactly, I just know their views don't match mine," she also said.
Over 1,800 women applied to take part in the installation. In order to carry out the shoot under strict secrecy, Tunick did not tell the women where the event would take place until the last moment.
Entry was denied both to the press and general public.
"It is done when the city is sleeping. In this work, we do not want to confront any passersby," Tunick said, as quoted by Cleveland.com media outlet.
"We do not want a press circus. We have made a lot of noise with the fact that all these wonderful people have signed up from all walks of life for all different reasons. That, to me, is a miracle," he added.