US mosque vandalized hours after Nice attack
Published time: 16 Jul, 2016 01:28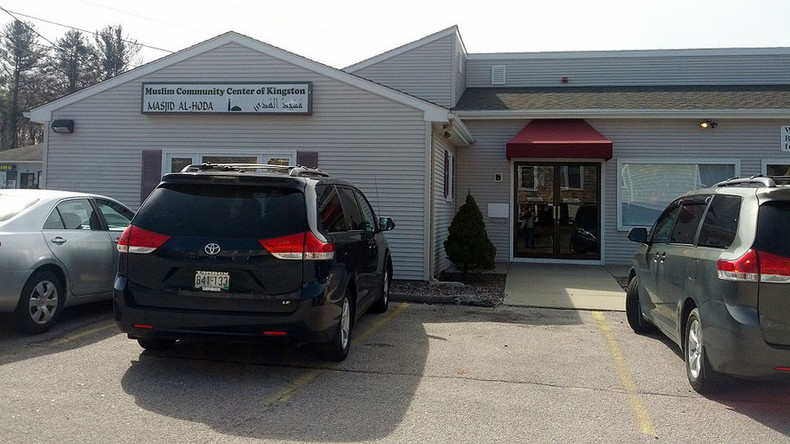 After Thursday's attack in Nice, France left 84 people dead, a Rhode Island mosque was vandalized. The Muslim Community Center of Kingston's Masjid Al-Hoda was spray-painted with the message, "Muhammad, prophet of butchers."
In the wee hours of Friday morning, officials with the Muslim Community Center found a window smashed in the mosque with anti-Muslim graffiti spray-painted outside the building.
"We've never faced anything like this," Dr. Nasser Zawai, spokesman for the Kingston, Rhode Island mosque told the Providence Journal.
"Shocked" was how Zawai, a dean at the nearby Graduate School at the University of Rhode Island, felt, he told the Journal, "because this is a very peaceful, beautiful community. I think this is an isolated incident and doesn't in any way reflect our Rhode Island community."
A statement from the South Kingstown Police Captain Joel Ewing-Chow described witnesses seeing a lone perpetrator, dressed in all black, break through the window using the handle of an axe. As a result, volunteers spent Friday vacuuming broken glass off of the prayer area, boarding up the broken window, and trying to wash off the graffiti.
This attack comes less than two weeks after the the Council on American-Islamic Relations (CAIR), a Muslim civil rights organization, released a statement to call for unity against Islamic State.
Dr. John Robbins, the executive director for CAIR, told the Daily Dot: "We will not let ourselves be divided by turning on each other or by throwing away the principles of justice and religious inclusion on which our nation was founded."
This is not the first attack on a mosque in the area. Rev. Donald C. Anderson, executive minister of the Rhode Island State Council of Churches, told the Journal that an Islamic school in West Warwick had been attacked last year.
"Whoever did this has no intention to try to create a more peaceful world," Anderson decried the vandalism, adding, "They only care about causing more trouble and making the situation worse."
Attacks against mosques and its attendants have been on the rise. In December 2015, RT reported that crimes against Muslims and mosques had hit an all-time high, following the attack on San Bernardino. Earlier this month, Dr. Arslan Tajammul of Houston, Texas was attacked while going to mosque for morning prayers.
Last June, Mohamed Rasheed Khan was attacked while bicycling home from his mosque in the New York City neighborhood of Jamaica, Queens.