'Without shoes or water': 3 young children left in Mojave Desert as punishment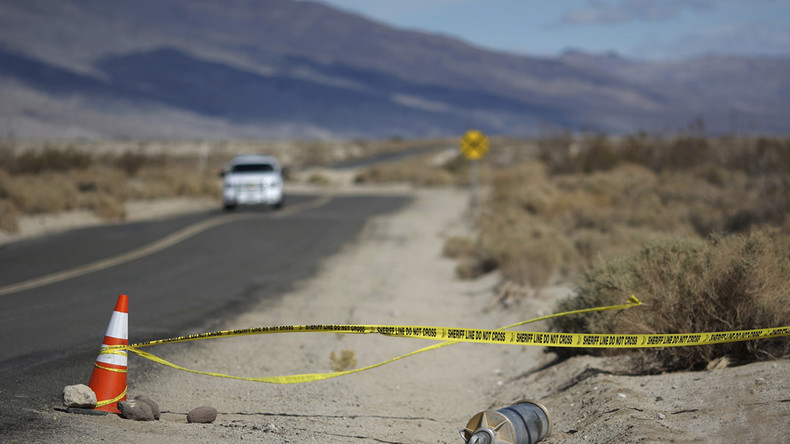 A homeless couple allegedly punishing three young children by sending them out into the Mojave Desert without shoes or water have been arrested.
San Bernardino County Sheriff's deputies made the arrest after responding to call that three young children, a 7-year-old girl and two boys aged 5 and 6, were left by themselves in the desert for disciplinary purposes.
Authorities said the children were found without water and shoes. Despite temperatures in the low 90s at the time, the children did not require medical treatment. The children had been in the desert for about 45 minutes before a local resident alerted the authorities.
The parents were "down the road from the children" according to sheriff's spokeswoman Cynthia Bachman, the Associated Press reported.
The couple was within sight of the children, "but it was apparent they weren't keeping a visual on them," Bachman said.
Bachman said the children had been living in a truck with their mother and boyfriend and described them as "local transients." It has still not been determined why the children were being disciplined.
Mary Bell, 34, and Gary Cassle, 29, were arrested on suspicion of child abuse and are being held in jail on $100,000 bail each. They are scheduled to appear in San Bernardino County Superior Court on Friday.
The children were taken by the county's Child Support Services department.
Upon entering the home, the sheriff's department found no food, floors covered with water due to blocked plumbing, and animal feces covering the bedroom floor, where everyone slept. Large rats ran around the garage, and roaches infested several parts of the home.
It is the second incident in High Desert community in a month. On June 25, seven children were removed from a home that officials said was "uninhabitable," according to KCEN.
In the June incident, the parents were also charged with suspicion of child abuse and later pleaded guilty. The children were taken into the custody of San Bernardino County Children and Family Services. Deputies said the children were in good health and did not require medical treatment.