'Justice for Alton': Vandals deface Richmond police memorial with spray paint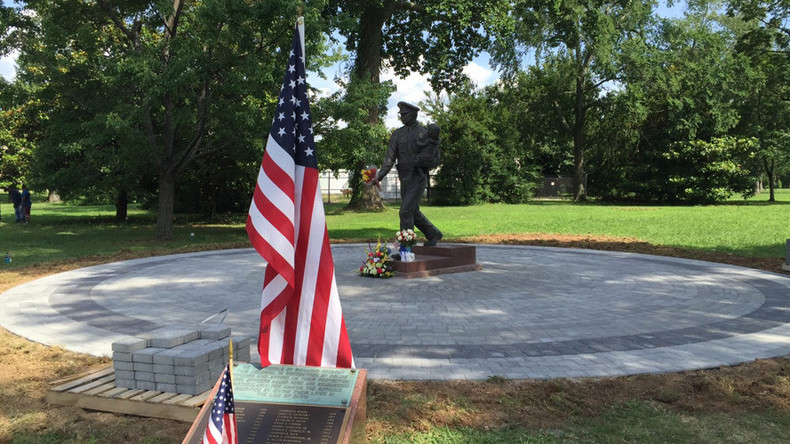 A Richmond, Virginia memorial dedicated to police officers killed in the line of duty was defaced with red spray paint. The vandals left a message demanding "justice" for Alton Sterling, a black man who was killed by police in Louisiana.
On Wednesday morning, law enforcement in found the Richmond Police Memorial – a statue of a police officer holding a young girl – with a red 'X' sprayed across its face and chest.
A message at the base of the monument is sprayed with the message "Justice for Alton," in an apparently reference to Alton Sterling, who was fatally shot during an encounter with two police officers last week in Baton Rouge, Louisiana.
Work crews used a pressure washer to clean the memorial, and law enforcement hoped that it would be restored within 24 hours.
"This is a cowardly act," Richmond Police Chief Alfred Durham said at a news conference at the monument's site. "It's very disheartening."
The 8-foot tall statue had been moved on June 24 to the city's Byrd Park from Richmond Coliseum, where it had stood for nearly three decades.
In addition to the bronze statue, the memorial features a plaque that lists the names of 28 Richmond police officers who were killed in the line of duty from 1863 to 2003.
Chief Dunham also told reporters that Richmond police are "on edge" following last week's attack in Dallas, where five police officers were killed and seven more wounded following a Black Lives Matter protest.
That demonstration was one of many held around the country following that shootings of Sterling and Philando Castile, a black man who was killed at a traffic stop in Minnesota.
Over the weekend, the department received an anonymous threat that turned out to be a hoax.
"These are trying times for law enforcement, but we're doing everything we can ... to make sure we don't have those incidents that we see across the country," Durham said.