San Francisco sergeant who shot homeless man transferred to reform bureau
Published time: 14 Jul, 2016 04:11
Edited time: 19 Dec, 2016 22:02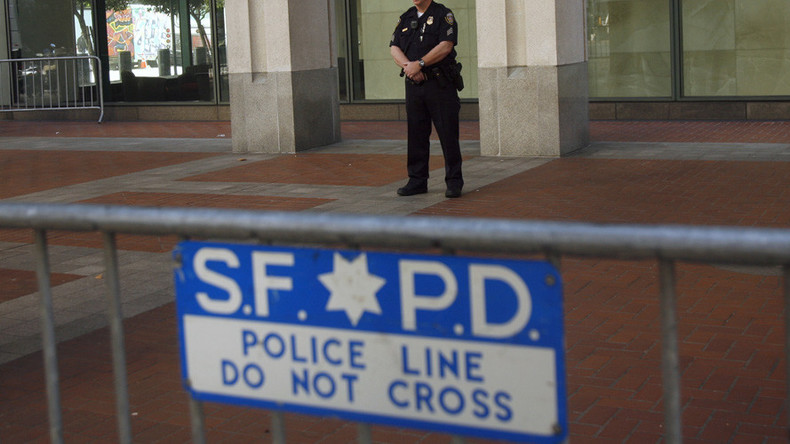 The San Francisco police sergeant involved in the fatal shooting of a knife-wielding homeless man was transferred to an internal bureau focused on reforming the agency, the department has announced. Activists are livid.
Police said Sergeant Nate Steger had been set for reassignment to an administrative position in the Professional Standards and Principled Policing Bureau before he and another officer opened fire on Luis Gongora on the morning of April 7.
Activists told KTUV they are fuming over Steger's job transfer. They are demanding answers from Police Chief Toney Chaplin and Mayor Ed Lee.
"It's a straight disrespect to the community of the Mission District, to Luis Gongora's family, to all black and brown residents of San Francisco," Oscar Salinas, a member of the Justice Coalition for Luis Gongora Pat, told the local news station.
"It's an absolute slap in the face to the family and the community. We don't understand this – we want to build relationships with the police department this is absolutely not the way to do it," he added.
Police said that on the on the morning of the shooting, the two officers responded to a call about Gongora waving a 13-inch kitchen knife and shot him with multiple bean bag rounds before opening fire with their handguns, shooting him seven times.
The San Francisco Police Department released a statement saying, "The Department is aware of the concerns raised by the community. Since being assigned to the position after the department of Chief Suhr, Acting Chief Chaplin has been conducting a top-to-bottom review of the Department."
Reuters reported the SFPD has been racked by scandals and protests. Protests began in December after the shooting of 26-year-old Mario Woods. Since then, police have killed two other people, including Gongora. The department's police chief has resigned under pressure from Mayor Lee.
On Monday, three former judges examining accusations of racial bias by San Francisco police released a report finding indications of institutionalized bias and problems with transparency and accountability in the department.
Critics of the police department questioned the transfer of Steger.
"It appears that he has been put in a position of preventing people from doing exactly what he did," San Francisco Public Defender Jeff Adachi told the San Francisco Examiner newspaper.
KQED reported in April, following the shooting, that despite a 17-year long career, Sgt. Nate Steger was not named as a defendant in any lawsuits, either in federal or state jurisdictions covering San Francisco. He has served as an internal affairs investigator, patrol officer and in plainclothes divisions.
The news comes in the wake of protests sparked by police killings of black men in Baton Rouge, Louisiana and near St. Paul, Minnesota last week, as well as a fatal sniper attack against police in Dallas that killed five officers.