'A marathon, not a sprint': Defiant Sanders urges supporters to continue political revolution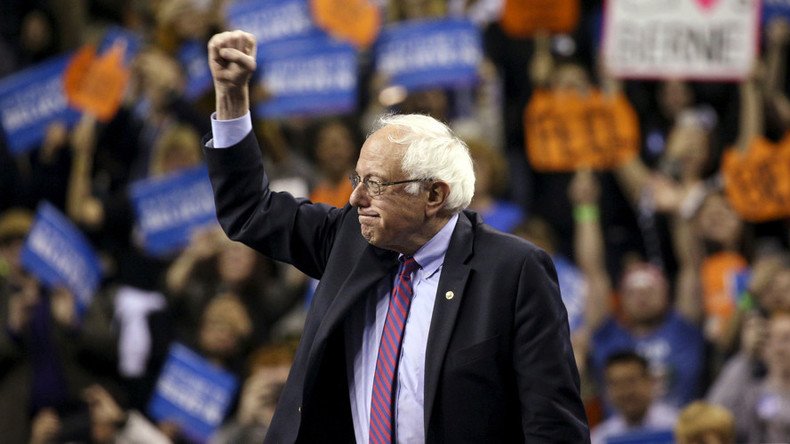 Bernie Sanders supporters may still be bruised by his nomination defeat but in a defiant letter the Democratic senator has reminded people his campaign was more than a presidential race - it was a "political revolution" - and one that he sees continuing.
As the dust settles on his bid for the White House, Sanders has penned a letter putting his juggernaut campaign in perspective, noting how his grassroots campaign made millions "Feel the Bern" and prove their is an appetite in the US for social change.
In the forward, posted on social media, he states his pride at being part of a movement which saw his backers move from "fringe" political players to a position where they were able to take on the "establishment."
"We showed that the American people support a bold, progressive agenda that takes on the billionaire class, that fights for racial, social, economic and environmental justice and that seeks to create a government that works for all of us and not just the big campaign donors," he wrote.
"We focused attention on the grotesque level of income and wealth inequality in this country and the importance of breaking up the large banks who brought our economy to the brink of collapse. We exposed our horrendous trade policies, our broken criminal justice system, and our people's lack of access to affordable healthcare and higher education."
Acknowledging the concession, he admitted his campaign "did come up short" but adds that the election was about taking the country back from the billionaire class.
"That was the strength of our campaign and it will be the strength of our movement going forward in the months and years ahead," he said.
The defiant message came just as scores of disappointed supporters branded him a "sellout" for throwing in the towel and endorsing rival Hillary Clinton on Tuesday.
In an interview with RT, executive director of the Ron Paul Institute, Daniel McAdams, described Sanders' backing of Clinton as a "farce."
Former Libertarian candidate Ron Paul, himself a critic of "corporatism," had previously described how he felt a "kinship" with Sanders, despite their political party differences.
But summing up the situation, RT America host Ed Schultz pointed out the successes Sanders achieved.
Instead he praised the Democrat for his 16-month run that he believes changed the political conversation in America.
"To all of these Bernie supporters you have to realize that this is a marathon not a sprint," he said.
"This endorsement that Bernie Sanders gave to Hillary Clinton was done for the good of the country. If Trump is president he will erase everything that President Obama has worked for, including healthcare."
Sanders' election journey might well be over, but perhaps representing a light at the end of a tunnel, the 74-year-old is reportedly set to launch a number of liberal organizations to help like-minded candidates in future elections, Politico reports.
Bernie's effective curtain call marks the end of the crazy primary season, or as broadcaster Stephen Colbert called it, The Hungry For Power Games.
You can share this story on social media: