Party foul: Voters defecting from their traditional sides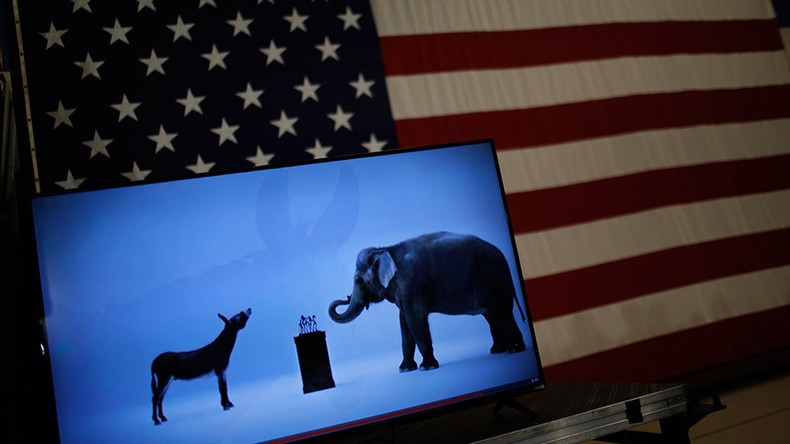 With less than a week until the Republican National Convention, election watchers see an unexpected trend, with voters threatening to jump party lines. The Republican Party is even underfunding its grassroots efforts for the 2016 White House race.
In Aurora, Colorado, a diehard Democrat in his 70s is planning to cast his first-ever ballot for a Republican candidate, and a lifelong Republican in her 50s is planning to vote for Hillary Clinton "because she can't bring herself to support Donald Trump," according to the Wall Street Journal.
The Journal found that with the two most unpopular presumptive nominees in recent memory, rank and file voters for both parties are feeling alienated.
Luanne Mitchell, the dedicated Republican who backs Clinton, has never voted for a Democrat. But she is worried about Trump's character, temperament and expertise, and she is bewildered at her party's choice.
"He has no idea what it takes to run a country," she said.
Jim Benson, the Democrat for Trump, said he lost faith in Clinton after the revelations over her private email server as well as the 2012 terrorist attack in Benghazi, Libya, which led to the deaths of four Americans.
"It will be the first time in my life I have ever voted for a Republican," Benson said.
Deep Root Analytics conducted a survey by measuring support for Trump against an unnamed Republican congressional candidate. They found that Trump ran 27 percentage points behind the generic candidate among white, college-educated Republican women, and 20 points behind among Republican women who did not graduate college.
With white men who identified as either Democrats or independents, Trump ran more than 10 percentage points ahead of the generic Republican, and scored stronger among white Democratic women and the least-partisan Democrats.
"This year, just putting on the red jersey or the blue jersey doesn't guarantee the usual support," said Brent McGoldrick, chief executive of Deep Root Analytics, a Republican firm that surveyed 7,394 registered voters this spring to help candidates and outside groups target voters through television and digital ads told the WSJ. "The name on the back of the jersey could mean more than the team name on the front."
Turmoil is also being seen at the campaign organizing level. The Republican Party chair, Reince Priebus, said in March that they would be hiring "thousands and thousands of employees."
Meanwhile, a state-by-state review by the Associated Press found "lots of holes in GOP presidential" battlegrounds in key states.
"Ohio Republicans thought they were going to see 220 paid staffers by May; in reality there are about 50. Plans for Pennsylvania called for 190 paid staffers; there are about 60. Iowa's planned force of 66 by May actually numbers between 25 and 30," reported AP.
Republican presumptive nominee Donald Trump is said to be relying on the party to do most of the work finding and persuading voters in the competitive battlegrounds.
"It's a tall order to ask the RNC to be the complete field operation for the presidential nominee," Steve Duprey, a national party committeeman from New Hampshire told AP. "We're following through on the plan but it was slower being implemented than we first would have hoped."
Since locking up the nomination in early May, Trump has gained ground with Republicans and independents. He led Clinton by 10 percentage points among white independent voters, 40 percent to 30 percent, according to the latest Wall Street Journal/NBC News poll in May.