20 veterans committed suicide every day in 2014 – study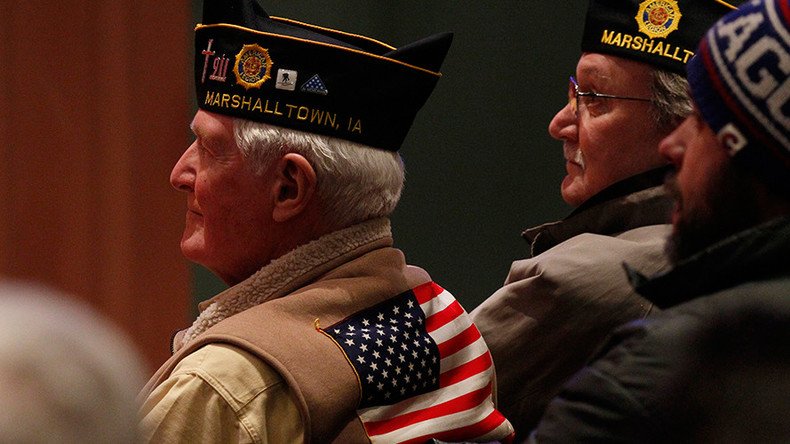 An average of 20 American veterans committed suicide daily in 2014, the US Department of Veterans Affairs revealed in its "most comprehensive" study of vet suicide rates yet.
The new analysis consists of 55 million veterans records nationwide dating back to 1979 up until 2014. The investigation into the mental health history of veterans revealed that in 2014, there were 7,403 suicides among veterans. That accounted for 18 percent of all adult suicides that year in the US, a total of 41,425.
The last time the VA conducted a study like this was in 2010, but that report included data from only 20 states. Based on its data, VA estimated daily suicide rates as averaging 22 per day. But while the 2014 data shows a decline in the rate, Under Secretary for Health Dr. David J. Shulkin believes that the US is capable of eliminating the suicide threat.
"One Veteran suicide is one too many, and this collaborative effort provides both updated and comprehensive data that allows us to make better-informed decisions on how to prevent this national tragedy," said Shulkin in a press release on Thursday. "We as a nation must focus on bringing the number of Veteran suicides to zero."
It is an uphill battle, as the findings of the latest study showed a trend of increased suicide rates among the vets in comparison to the civilian population. Since 2001, veteran suicides increased by 32 percent, while civilian suicides among adults increased 23 percent.
"This makes the risk of suicide 21 percent greater for Veterans," the VA concluded.
Representative Jeff Miller (R-Florida), chairman of the House Committee on Veterans' Affairs called the numbers "heartbreaking proof that we have a long way to go in order to end this troubling trend."
The study also found that 65 percent of all veterans who died as a result of suicide in 2014 were 50 years of age or older. Furthermore, the probe examined the suicide rate of those veterans that sought medical attention as opposed to those that refused psychological treatment.
Since 2001, the suicide rate among former servicemen that used VA services increased by 8.8 percent, while those veterans who did not use the VA services increased by 38.6 percent.
"Sustained progress will require a comprehensive approach to help ensure our most at-risk veterans have not only the care they need but also a job, a purpose and a system of support in place to help carry them through their struggles," Miller said in a statement.
The shocking statistics also revealed that from 2001, the suicide rate of female veterans who used VA services increased 4.6 percent, but the rate for female veterans who did not seek care increased by a staggering 98 percent.
In 2015, more than 1.6 million former servicemen received mental health treatment from the VA. To reverse the trend, the VA said that it is "aggressively" adopting new measures to prevent suicide. These include same-day access for those with urgent mental health needs and access to the Veterans Crisis Line.
Among other measures, authorities are also relying on "predictive modeling" to evaluate the people with the highest risk of suicide, so that health care providers can intervene early.
"Veterans in the top 0.1 percent of risk, who have a 43-fold increased risk of death from suicide within a month, can be identified before clinical signs of suicide are evident in order to save lives before a crisis occurs," the VA explained.
You can share this story on social media: