Detained immigrant children must be released - California court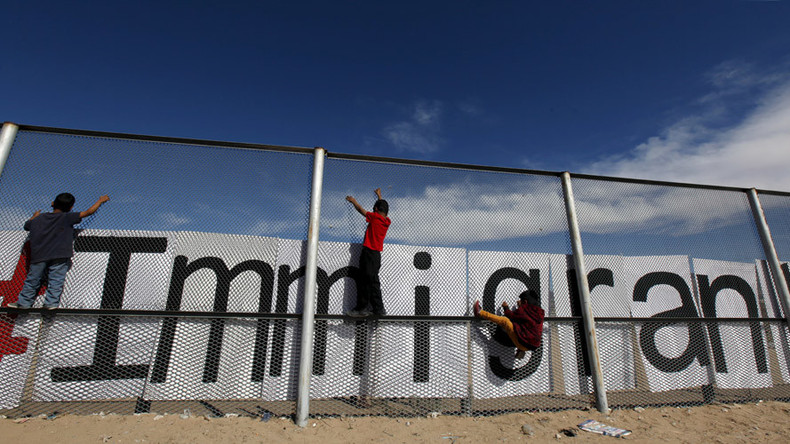 Immigrant children, who crossed the US border without documentation and were held in family detention centers by Homeland Security officials, must be released, the San Francisco Court of Appeals has ruled.
The ruling by the US Court of Appeals for the Ninth Circuit in San Francisco on Wednesday sided with immigrant plaintiffs. The case centered on the violation of a 19-year-old legal settlement known as the Flores agreement that set legal requirements for the housing of children seeking asylum or in the country illegally.
The US government has spent millions of dollars on two detention centers in Texas to cope with the flood of immigrants, who overwhelmed border authorities in the summer of 2014. Tens of thousands of families, mostly mothers with children, arrived fleeing gang and domestic violence in Central America.
A Homeland Security official said the jails were opened to house immigrants, because 70 percent of families once released never reported back to immigration officials for processing. Critics of the jails argued they were not suitable for children and that their detention violated the Flores agreement.
In July 2015, a lower court decision found the US government had violated key provisions of the court settlement that put restriction on the detention of migrant children. Since that ruling, immigration officials released hundreds of families and have been holding newly arriving families for only short durations.
The three-judge panel also ruled on Wednesday that immigration officials aren't required to release the parents detained along with the children, according to the Associated Press.
Federal attorneys argued on appeals that the Flores settlement only applied to unaccompanied migrant minors and not children accompanied by parents or other adult family members. Plaintiffs argued the settlement applied to all children, which the 9th Circuit of Appeals sided with.
"This decision makes it clear that the Obama administration can no longer detain accompanied children for long periods of time in unlicensed, locked-down facilities," Peter Schey, one of the lead plaintiff attorneys and president of the Los Angeles-based nonprofit Center for Human Rights and Constitutional Law, told the Los Angeles Times.
With the court ruling, when the children are released and if the parents are re-detained, the children will be treated as unaccompanied minors. Once that happens, they will be turned over to the Department of Health and Human Services and placed either with relatives or possibly a foster family in the US, while the DHS or a judge decides whether they can stay in the US.
The Department of Homeland Security reported that more than 23,000 families have been apprehended in the first five months of 2016, compared to about 13,400 in 2015 and around 30,600 in 2014. Most are from Honduras, El Salvador or Guatemala.