FBI recommends no charges against Clinton, but Snowden & others didn't get off so easy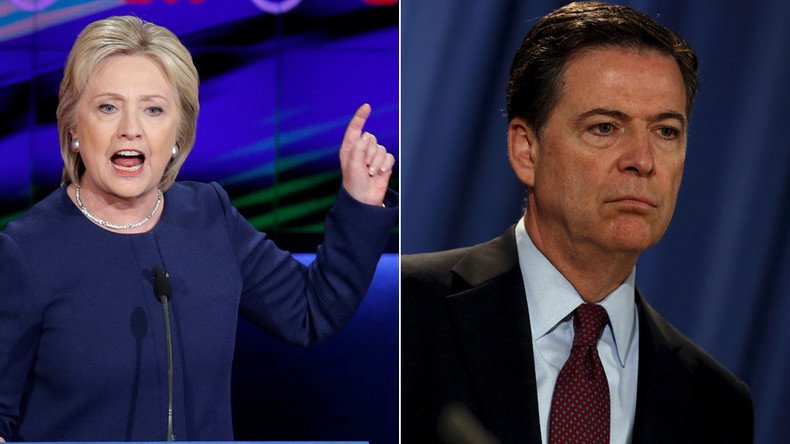 Hillary Clinton was called "extremely careless" in handling classified information by the director of the FBI, who recommended no charges be brought against her – an easy ride compared to what Edward Snowden and even David Petraeus faced.
FBI Director James Comey, a Republican, announced on Tuesday morning the agency's recommendation to bring no charges against Hillary Clinton for her improper use of a private email server for sensitive communications, adding that "no reasonable prosecutor" would file such a case against her.
READ MORE: Clinton hid thousands of emails, put classified data on her server, but shouldn't be charged - FBI
However, Comey went on to say that the FBI found that Clinton and her colleagues were "extremely careless" in their handling of classified information – and "gross negligence" with such information is considered to be a felony under the Espionage Act.
"For example, seven e-mail chains concern matters that were classified at the Top Secret/Special Access Program level when they were sent and received." Comey said in a statement."These chains involved Secretary Clinton both sending e-mails about those matters and receiving e-mails from others about the same matters is evidence to support a conclusion that any reasonable person in Secretary Clinton's position, or in the position of those government employees with whom she was corresponding about these matters, should have known that an unclassified system was no place for that conversation."
Hillary is not the first government official to have "carelessly" handled secret information, but others have not had the same the special treatment.
Donald Trump, who is expected to be the Republican nominee for the 2016 race, used the FBI's move as another example that the American political system is "rigged" to favor politically connected establishment figures.
Though he was a well-respected four-star general who was rumored to be eyeing a presidential bid, Petraeus' career came to an abrupt end with his 2012 resignation after it was made clear that he passed sensitive information to Paula Broadwell, his mistress and biographer.
Petraeus lied during the investigation, which itself is a felony, but the Department of Justice accepted his plea of the lesser charge of mishandling classified information. He was sentenced to probation and was fined $100,000.
Another Director of the CIA, John M. Deutch, found himself in a similar debacle less than two decades earlier. Deutch, who had been appointed by President Bill Clinton in 1995, resigned from his high post in 1996 after it was discovered that he stored classified documents on his personal computer.
Deutch agreed to plead guilty to misdemeanor mishandling of classified information and pay $5,000 dollars, but he was saved by a pardon by President Clinton in January 2001, during the president's last day in office.
But perhaps the strongest parallels can be seen with someone lower on the government totem pole. Bryan H. Nishimura, was sentenced to two years' probation and $7,500 fine last year for holding classified materials on personal devices – without malicious intent, just like Hillary Clinton.
"He carried such classified materials on his unauthorized media when he traveled off-base in Afghanistan and, ultimately, carried those materials back to the United States at the end of his deployment," the FBI's website says. "In the United States, Nishimura continued to maintain the information on unclassified systems in unauthorized locations, and copied the materials onto at least one additional unauthorized and unclassified system."
The similarity of such case to the Clinton controversy doesn't seem to be lost on Comey. The FBI chief strongly stated that others who behaved as Clinton did wouldn't necessarily get off the hook like the former secretary did.
"To be clear, this is not to suggest that in similar circumstances, a person who engaged in this activity would face no consequences," Comey's statement said. "To the contrary, those individuals are often subject to security or administrative sanctions. But that is not what we are deciding now."
The decision differs drastically from that on Edward Snowden, the whistleblower who revealed the NSA's secretive mass surveillance in 2013, didn't get the same lenient treatment from government agencies.
Despite an outcry from the public and the success of legislation that seeks to reign in government spying, Snowden was still censured by top government officials and charged with violating the Espionage Act.
After Snowden fled the country to avoid decades in prison, Clinton herself referred to him as a traitor who has "blood on his hands" for his leak of classified documents.
You can share this story on social media: